You've seen successful online business owners who create and sell their courses. You want to do that too, but you're unsure where to start.
Building an online business off the ground is already tricky, and the thought of learning yet another online platform can seem daunting.
Kajabi is the perfect solution for busy entrepreneurs. You can create a business site and share your expertise through an online course, a membership site, or other digital products in just a few steps.
In this guide, you'll get a step-by-step procedure on how to use Kajabi so you can do your product launch like a professional!
What is Kajabi?
Kajabi is more than an online course platform. It's an all-in-one software that allows you to create, launch, market, and sell your digital products.
With this platform, you can create a beautiful site for your business, launch multiple online courses, process and accept payments, and more.
Why Use Kajabi?
As an entrepreneur, your time is precious. You don't want to spend hours trying to piece together different software solutions when you can be working on other aspects of your business.
Kajabi consolidates everything you need into one platform. So, you can save time and energy.
Now that you know what this platform can do, let's start our Kajabi tutorial.
Creating an Account on Kajabi
You must create an account before you can see Kajabi's dashboard and use its features.
Kajabi offers a 14-day free trial for all its plans. Sometimes they provide longer ones when they have promos.
You can sign up on the Kajabi homepage, but it will automatically register on the Basic plan. So I recommend going to the pricing page and choosing the one you want.
Here's how to create an account:
Enter your name and email address. Select "Continue."
Fill out the information section with your password, phone number, and credit card info. Then select the "Start Free Trial" button.
Fill out the information section with your password, phone number, and credit card info. Then select the "Start Free Trial" button.
Setting up Your Kajabi Account
After signing up, the next step is to fix basic site settings like your site details, payment integrations, and marketing.
If you wish to change general settings on your Kajabi accounts like your site's name, logo, language, and currency, go to the "Settings" tab and click "Site Details."
Don't forget to save before your exit.
Payment Integrations
You must ensure that you'll get paid for your hard work before selling your online courses or creating a Kajabi site.
Kajabi lets you integrate and get paid through your PayPal and Stripe accounts. These two are the top payment gateways in the market, so there's a slim chance you'll have any problems with receiving money.
Follow these simple steps to connect your accounts:
Go to the "Settings" tab.
Click "Payment Integrations."
Click the payment gateway you want to use and select "Connect."
Log in to your Stripe or PayPal account and provide the information needed.
If you're using a PayPal account and you need help with the client and secret information, here's a complete video tutorial:
Editor's Note: You need to create a Paypal or Stripe account first before you can connect them and accept payments from your users.
Marketing Settings
To comply with the international anti-spam law, you must provide your contact address.
Your marketing contact address will appear on the footnote of your emails. And if you don't set it, you can't send emails on Kajabi.
You can also customize your email domain inside the Marketing Settings. Using your domain is a great way to establish trust and build authority around your online business.
Here's how you can set up your contact address and email domain:
Under the "Settings" tab, click "Marketing Settings."
Input your company name and complete address. Click "Save."
Scroll down to the "Email Settings" section.
Type your email domain under the "From email" and "Reply-to email." Then click "Save."
Building Your Kajabi Website
Creating a premium-looking website with Kajabi is a child's play. You don't need to worry about the design as it provides premade themes and templates for free.
Customizing them is relatively easy, too. The platform has a drag-and-drop tool that allows you to make changes and move things around.
It also provides a custom code section where you can add your HTML, CSS, and Javascript codes.
Kajabi lets you make your website more immersive for your visitors by adding images, videos, buttons, quizzes, opt-in forms, and many other elements!
Build your website in no time by following these steps:
Click the "Website" tab on your dashboard.
Under the "Design" tab, click "Pick theme."
Browse and choose one of the Kajabi templates.
Click the template you like and select "Get Started."
Once you're back to the "Design" tab, click "Customize."
Now you can personalize your pages with Kajabi's site builder. You can drag and drop the sections on the left side to move things around, click a part to edit, or choose the "Add Section" tab to add more content.
Creating and Selling Products With Kajabi
Kajabi lets you create different digital products, but the common ones are online courses and membership sites.
Aside from these two, you can also provide:
Kajabi provides blueprints that guide you on what to do so you won't feel stuck in the product or course creation process. Moreover, since Kajabi is all about streamlining, it provides customizable themes for your course.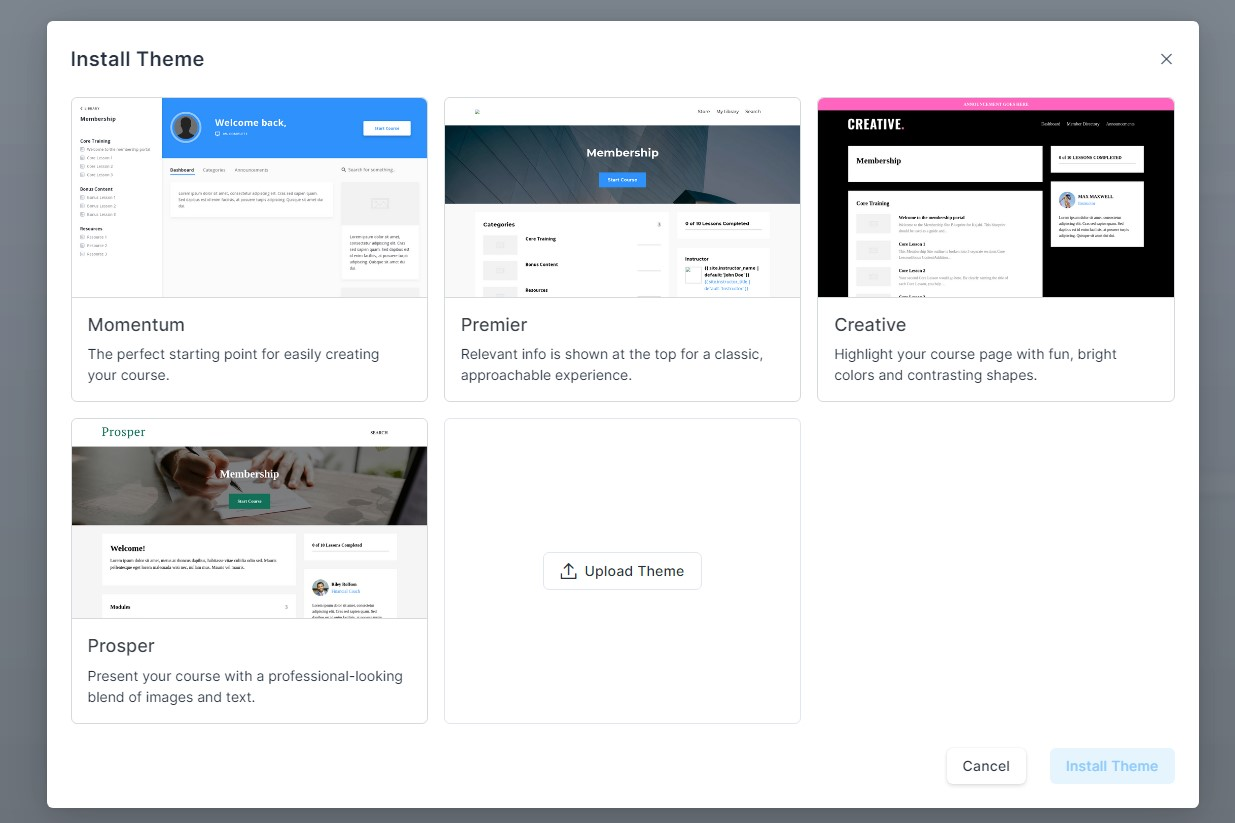 Click the "Products" tab on your dashboard.
Select "Get Started."
Choose the product blueprint you want or the blank one.
Type in your title and description and upload your thumbnail. Select "Submit."
Add your course content, and don't forget to save your progress.
You can add videos, digital downloads, audio, and quizzes on your membership site and online course. Use them to increase student engagement.
Building Landing Pages With Kajabi
Landing pages are standalone pages that have a single focus or goal. It can convert leads to customers by a sales page, increase your email subscribers through opt-ins, or promote your services and products.
The good thing about Kajabi is that it already has premade templates for different landing pages that digital entrepreneurs need.
They are high-converting, mobile responsive, and customizable landing and sales pages.
Just follow these steps to create your first landing page:
Go to the "Website" section on your dashboard.
Click "Pages."
Click the "Landing" pages tab and select "+New Landing Page."
Choose the blank page if you have a design in mind, or select from over 50 landing page templates on Kajabi.
<iframe allowtransparency="true" title="Wistia video player" allowFullscreen frameborder="0″ scrolling="no" class="wistia_embed" name="wistia_embed" src="https://fast.wistia.net/embed/iframe/3potnx6vcc" width="400″ height="225″></iframe>
Select the "Get Started" button.
Start customizing your landing page! Click "Save" once you're done.
You can add these contents to your landing pages: videos, audio, texts, and call to action.
To make your landing pages more effective, you can add some widgets like the countdown timer to create a sense of urgency or pricing options to show how much your products cost.
Making Offers With Kajabi
Offers feature allows you to produce pricing plans and combine digital products to sell.
For example, you can include exclusive community access for all your customers who'll buy your online course. You can also offer different tiers for your membership sites.
Inside the "Offers" section, you may schedule a starting date where your students can access your digital products or provide a promo for a limited time.
Automation is also available in the "Offers" section to make your selling process much easier.
So here's how you can create offers with Kajabi:
On your Kajabi dashboard, click the "Sales" tab.
Under the Offer page, click "Get Started."
Create an offer title, select the products, choose your payment time, and set up the price for the offer. For the payment type, you can choose one-time payment, multiple payments, subscription, or free.
Click "Create."
Edit your offer and click "Save."
If you want to set a quantity or time limit and add more pricing rates, you can click the pricing tab next to the details.
You can also create upsell offers under the "Upsell" tab to increase your sales.
Editing your checkout page is possible inside the "Offers" dashboard. Simply click the "Edit Checkout" button, and you'll be able to add content and change the primary design of your checkout page.
Setting up Email Marketing Campaigns for Your Business
Efficient email marketing with Kajabi is another reason you'll love this platform. It has built-in email tools and automation that allow you to create high-converting email campaigns.
Like the other builders, Kajabi also provides blueprints, templates, and the drag-and-drop editor for your email marketing campaigns.
You can use them to create and schedule one-time or series of emails.
Aside from automation, Kajabi also allows custom segments. This feature lets you send emails to a specific group and create a more personalized email.
Here's a step-by-step guide on how to set up an email marketing campaign with Kajabi:
Click the "Marketing" tab on the dashboard.
Under "Email Campaigns," select "Get Started."
Select the email campaign you want to create. Click "Continue."
Choose your template. Kajabi offers templates based on purpose and design.
<iframe allowtransparency="true" title="Wistia video player" allowFullscreen frameborder="0" scrolling="no" class="wistia_embed" name="wistia_embed" src="https://fast.wistia.net/embed/iframe/vmduaklet1" width="400" height="225"></iframe>
Click "Get Started," add a title for your email, and select "Create."
Select your contact list. Click "Save and Continue."
Edit the details of your email and customize the content of the template.
When you're done customizing your email, click "Save and continue."
Schedule your email or click "send now" to immediately deliver it to your contacts. Click "Confirm."
If you want to edit your email marketing campaign, just click the title of your email inside the Email Campaigns dashboard.
Creating Pipelines With Kajabi
Kajabi Pipelines work as sales funnel templates for Kajabi users. They allow you to connect your marketing and sales processes to streamline your business strategy.
Kajabi pipeline blueprints follow the OVO approach, which stands for:
Offer: The lead magnet or the freebie you're giving away to entice your website visitors.
Value: The content your lead will consume is usually in the form of an email course, video training, or an ebook.
Order: The paid offer that your lead will purchase from you through a sales page. It could be a digital product, an online course, or a membership site.
Follow these steps to create your first Pipeline:
Go to "Pipelines" under the "Marketing" tab. Then, click "Get Started."
Select a Pipeline blueprint.
You'll get a preview of what the Pipeline contains. You can watch the short video or click "Create Pipeline" to continue.
Type your Pipeline title and choose which product you want to market inside the Pipeline. Select "Generate Pipeline."
You may now edit the stages of your Pipeline by clicking the exact stage.
Once satisfied with your Pipeline, copy the link and paste it onto your website or social media accounts.
Some parts of the Pipeline allow automation. If you want to add it, simply click the + icon under the stage and set up your automation.
If there's a web page that you wish to add to your Pipeline, simply go to the middle of the two and click "Add Page." You can choose to create a new landing page or connect an existing one to your process.
With Kajabi Pipelines, you won't need to worry about the technical parts of online marketing. You can focus on your content and let the platform handle the automation for you!
Setting up a Blog
Posting high-quality blogs can attract more visitors and increase your chances of ranking on Google.
With Kajabi, you can create a blog page that you can easily connect with your other pages or home page.
Start producing content and sharing your expertise online by following these steps:
Go to the "Website" tab, select "Blog," and click "Get Started."
Input your page title, page description, and image for SEO purposes. You should include a keyword you'd like to rank in this step. After that, click "Save."
Add your content and click "Save."
Inside your Kajabi post, you can add videos, images, and audio. You may also change the color of your texts, add headings, and insert links and source codes.
If you want to add tags to make the content easier to find, you can also do that inside your post.
More Features
I know your mind is spinning with all possibilities for your business now that you know how to use Kajabi. But there's more that Kajabi can offer.
These are some extra features that can help you grow your business:
Affiliate Marketing
With Kajabi, you can set up an affiliate program to recruit partners who will promote your products and services. You can get more buyers by leveraging your affiliates' reach.
Kajabi makes it easy to set up an affiliate program and track your affiliates' performance. You can also automate commission payments, so you don't have to worry about it monthly.
To get started, go to the "Sales" tab and click "Affiliates." However, this feature is only available on the Growth and Pro plans.
Kajabi Tutorial
Kajabi is generous when it comes to providing resources to its users. It doesn't only offer a technical Kajabi tutorial, but it also has an extensive library of videos, webinars, blogs, and more.
The most popular resource it has is the Kajabi University, where you can learn everything about Kajabi and how to use it to have a successful business.
These are all free for Kajabi users!
Third-Party Integrations
Although all the tools you need to grow your business are already available inside Kajabi, the platform still allows some external integrations.
Integrations allow you to connect your Kajabi account with other software to automate tasks and improve your workflow.
Kajabi has several integrations with popular software such as Zapier, Google Analytics, Facebook Pixel, and MailChimp.
You can find all the integrations by going to the "Settings" tab and under " Third-Party Integrations."
Kajabi Pricing
Kajabi offers three pricing plans:
Basic – $149/month
Growth – $199/month
Pro – $399/month
The Basic plan is the best for beginners or small online businesses.
If you're running a more prominent company that needs higher limitations and advanced features, like affiliate marketing and advanced automation, you won't regret going for the Growth or Pro plan.
It might seem more expensive compared to other course creation platforms out there. However, with everything Kajabi can provide, you actually save more money than buying different online tools.
How to Use Kajabi: Conclusion
Kajabi is a straightforward yet powerful tool for online businesses. It is a platform that can help you create and launch your products, establish a premium Kajabi website, build membership sites, start an affiliate program, track conversions, and much more.
You can never go wrong with this comprehensive business platform.
Now that you know how to use Kajabi like a pro, it's time to build a successful online business. Create an account today and enjoy your 14-day free trial.
Or try Kajabi for a longer trial period with their special deal!
Kajabi Frequently Asked Questions: