You've probably heard of GrooveFunnels and Kajabi but are still unsure which platform is the best for your online business.
Software features aren't the only things that matter. You also need to consider the pricing, ease of use, and integrations. It isn't easy to check these things without comparing them side by side.
So here's an in-depth comparison of GrooveFunnels vs Kajabi.
At the end of this article, you'll be able to answer: "Which is the one for me?"
What is GrooveFunnels?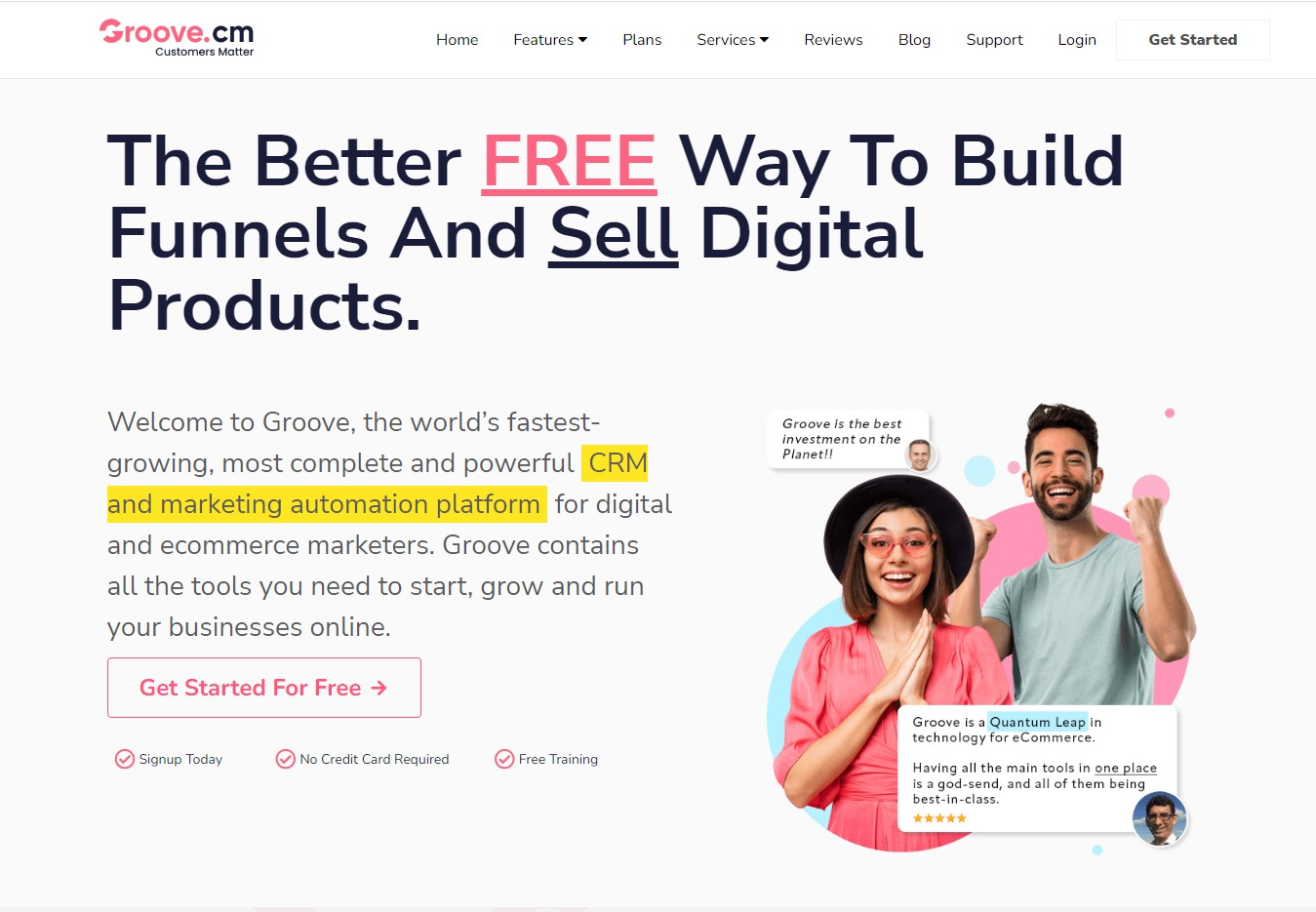 GrooveFunnels (or Groove. cm) is an all-in-one marketing platform that allows you to sell digital and physical products. Its primary focus is to help businesses increase their sales and conversion.
Mike Filsaime, together with his team, launched GrooveFunnels in 2018. Mike is a well-known digital marketing expert. He's also the person behind Kartra and EverWebinar.
GrooveFunnels can help you:
connect with your audience;
manage your data;
promote your business;
and sell your products and services online.
Groove Funnels Pros and Cons
Pros
It has a free plan.
It's a powerful yet relatively beginner-friendly platform.
Its funnels, websites, and other features are highly-customizable.
It provides hundreds of pre-made templates.
Cons
It can be buggy, and some features are still underdeveloped.
It has a learning curve.
What is Kajabi?
Kajabi is the #1 online course platform that allows you to create membership sites, online courses, and digital products. It's popular among course creators, coaches, and internet marketers.
In 2010, Travis Rossel and Kenny Reuter created Kajabi. Since then, it has already helped 50,000+ creators and catered to over 60 million students worldwide.
Kajabi offers essential features that go hand in hand with selling digital products. These include sales funnels, landing pages, and marketing automation.
Like Groovefunnels, Kajabi is very straightforward. You can create websites and digital products in no time, even without prior experience in design and coding. (Yes, you've read that right!)
Kajabi Pros and Cons
Pros
Well-designed and easy-to-use platform.
No transaction fees for all plans.
Customizable templates and pipelines.
Superb customer support.
Offer free trials for interested users.
See more pros and cons here.
Ideal Users
GrooveFunnels is great for startups and business owners who:
want to save money;
need a platform that covers the entire sales funnel process;
and want to sell and promote their products online;
While Kajabi is ideal for creators and entrepreneurs who:
want to build, promote, and sell online courses, memberships, and other digital products;
are okay with fewer sales features but a smoother interface and tools;
need a platform that's easy to use and navigate;
and willing to spend more for reliability.
GrooveFunnels vs Kajabi: Ease of Use
Both Groove Funnels and Kajabi are convenient to use. They have clean and organized interfaces. So you can use them without difficulty.
The two platforms also have the drag-and-drop feature. You can quickly edit your content by moving the elements around, making the creation of landing pages, sales funnels, and websites simpler.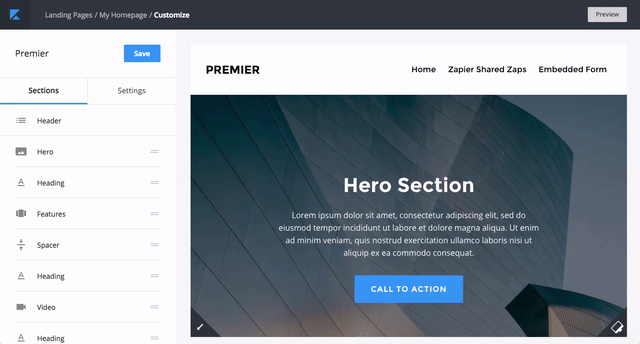 The only catch is that GrooveFunnels' drag-and-drop feature isn't as smooth as Kajabi's. It's a little laggy, and I had difficulty clicking the section I wanted to move.
Winner
For this, I'll choose Kajabi. Its features and interface are more polished than GrooveFunnels.
GrooveFunnels vs Kajabi: Online Courses/Membership Site Creation
When it comes to launching and selling courses and membership sites, there's no doubt that Kajabi is the best platform. Setting up everything in just a few minutes is possible.
Kajabi's course builder is straightforward. You can choose a blank page if you want. Or, select from the pre-built templates, including:
mini-course;
full course;
drip course;
webinar;
membership site;
community;
and more.
Kajabi also provides a blueprint, which is very helpful if you don't know where to start. It serves as a guide to creating an impressive online course.
In addition, the platform lets you add various types of content with a simple click. Aside from texts, you can add videos, images, quizzes, audio, and more! They can help increase student engagement.
Groove has the same features accessible under GrooveMember. You can use it to create drip or full-length courses and membership sites. The platform also has a simple course builder. It's good, but it's not as comprehensive and smooth as Kajabi.
You can add texts, videos, checklists, and downloadable to your course, but the audio content isn't available yet. There's also no button for adding quizzes or surveys.
Aside from that, GrooveMember doesn't have blueprints to help you launch the course quickly.
If there's something that GrooveMember has that Kajabi doesn't, it would be the member's access level. You can create as many membership levels as you want and determine the content access of each one.
This tool is handy if you want to offer a tiered membership. For example, you can provide a free trial, basic membership, and premium membership.
Winner
Kajabi has the edge over GrooveMember because it's more comprehensive. GrooveMember is still a great option for offering a tiered membership and free access to courses and membership creation.
GrooveFunnels vs Kajabi: Website and Page Builder
Your website or landing page is the foundation of your online business. It's where you drive traffic and the first thing that potential customers will see.
Both platforms have excellent page builders that will allow you to create any landing pages.
They offer responsive and beautiful templates categorized according to purpose and niche. Whichever platform you choose, you'll be able to create a page that converts.
GrooveFunnels and Kajabi use the drag-and-drop editor plus one-click edit. All templates are highly-customizable too. You don't need to hire a web designer to create a great and unique website or pages.
The only downside of GrooveFunnels is the blog page creation. You can edit your website, funnels, and landing pages on GroovePages, but you can only edit your blog page under GrooveBlog. It's possible to connect the two platforms, but it's not easy.
Kajabi, on the other hand, integrates everything. You can simply add your blog posts by adding a section on your website builder.
Winner
Another close fight since GroovePages offers more templates. However, Kajabi has the upper hand because it's more structured and integrated.
GrooveFunnels vs Kajabi: Sales and Checkout Pages
Kajabi and GrooveFunnels are commendable for their sales features and checkout pages. They provide all the tools you need to take payments and deliver products efficiently.
Some similar features that they have are:
pre-made templates;
drag-and-drop tool;
payment integration with PayPal and Stripe;
one-page checkout;
upsells;
order bumps;
and coupon codes.
Since Groove's primary focus is sales, it offers more features than Kajabi.
It has better template options, and there are many apps inside Groove that help you create a fantastic customer experience. You can use GroovePages to build your funnel, GrooveSell to manage checkout forms, and GrooveKart to create an online store.
The more you use Groove, the more you realize how amazing it is. However, for some people, it can be overwhelming.
Another crucial feature that Groove has and Kajabi doesn't is the A/B split-testing.
A/B split-testing is testing two versions of your sales page to see which one performs better. It's important because the slightest change can have a big impact on your conversion rate.
Although Kajabi is more limited than Groove, it's still a powerful platform. It offers sales funnels in the form of pipelines. They are beneficial in streamlining your sales process, from the initial offer down to the delivery of the product.
Winner
GrooveFunnels. Besides offering better sales features than Kajabi, GrooveFunnels allows you to sell unlimited products and create unlimited online stores in its free plan. While Kajabi only lets you create up to three products for its Basic Plan.
GrooveFunnels vs Kajabi: Email Marketing
Email marketing is sending messages to potential and current customers via email. It's important because it helps you nurture your relationships with your audience, build trust, and eventually increase sales.
Both platforms have marketing tools that you can use to create, manage and automate your emails.
You can use GrooveFunnels and Kajabi to produce email newsletters, sequences, and campaigns. Automation is also possible with the two platforms. They make marketing more manageable and effective.
GrooveFunnels' email features are under GrooveMail. It's still in beta mode, so some parts aren't available yet. In addition, it's not as responsive as other platforms in the market.
I didn't find GrooveMail as good as Kajabi for now. There are no widget options, and unlike its page builders, it doesn't have a drag-and-drop editor.
In addition, templates aren't available, and the email editor is very basic. However, one thing that GrooveMail has is the A/B split-testing.
With Kajabi, you can create beautiful content with its Email Builder. It has a drag-and-drop editor and a wide range of templates that you can use for your email campaigns.
Kajabi also provides additional tools that GrooveMail doesn't have, such as:
countdown timer widget;
buttons;
video content;
and social icons.
Winner
I'd pick Kajabi for this round. It has the features and automation you need to create a great email marketing campaign. It's also user-friendly and provides customizable templates. It might change once GrooveMail is out of beta mode.
GrooveFunnels vs Kajabi: Automation and Integrations
One thing that most business owners and creators would agree upon is that automation and integrations are life-savers. They help you save time and energy by doing repetitive tasks for you.
GrooveFunnels and Kajabi allow various automation and have built-in and third-party integrations. I would say that they both offer many options. Some similar integrations they have are Zapier, AWeber, Mailchimp, and Facebook Pixels.
As for automation, Kajabi has the edge over GrooveFunnels. Let me explain why.
The platforms follow the "IF/WHEN and THEN" scenario. For example, when a form is submitted, add a "subscriber" tag.
GrooveFunnels automation focuses on card abandonment, email lists, and forms. You can view all of this under GrooveMail. In contrast, Kajabi provides more automation, including events, assessments, emails, and posts.
Kajabi takes this one step further by allowing advanced automation. The Growth and Pro Plan enable users to add a condition, "only if." This feature allows you to create more complex or personalized automation.
Winner
I would say that they are tied for integrations. But Kajabi has a slight advantage for automation because it's more advanced.
GrooveFunnels vs Kajabi: Affiliate Management Tools
There are two ways to approach this topic.
One is making money through GrooveFunnels' or Kajabi's affiliate program. And two is setting up your affiliate program for your students.
GrooveFunnels and Kajabi both provide an affiliate program where you can earn commissions every time someone signs up through your affiliate link.
For GrooveFunnels, the commission you receive depends on your plan.
On the Free Plan, you can get 20% per affiliate upgrade. If you're subscribed to the Starter Plan, you can get 30% and 40% for the Pro Plan. For a new platform, this is a pretty sweet deal.
On the other hand, Kajabi has its affiliate program called Partners Program. Unlike GrooveFunnels, Kajabi gives a fixed 30% lifetime commission for every new referral.
If you want to promote your products through affiliate marketing, you can set it up on GrooveAffiliate or Kajabi.
They have a built-in affiliate management system where you can manage, monitor, and track your affiliates. So you can quickly see how your affiliates are performing and pay them automatically.
GrooveFunnels vs Kajabi: Customer Support and Resources
When you encounter an issue or have a question, you want to get help as soon as possible. No one wants to suffer because of a technical problem.
The good news is that GrooveFunnels and Kajabi have superb customer support. You can contact them through live chat or email. The only difference is that Kajabi provides assistance via telephone while Groove doesn't.
Both platforms also have an official Facebook community where you can post questions.
GrooveFunnels and Kajabi have a lot to offer when it comes to resources. They have video tutorials, how-to guides, and articles to help you with the platform and your business.
GrooveFunnels has Groove.how and Groove Digital Academy. You can access them for free. On the other hand, Kajabi provides access to webinars, a great support center, and Kajabi University. The first two are free, but Kajabi University is only for paid users.
Winner
Tie. Both platforms offer excellent customer support and have a lot of resources you can use.
GrooveFunnels vs Kajabi: Best 'All-in-One' Platform
Both software claim that they are the best 'all-in-one' platforms. But who's telling the truth?
GrooveFunnels and Kajabi are user-friendly and created to help you streamline your business. They each have their pros and cons, and it all depends on your preference.
Some GrooveFunnels features are still in beta, so you might encounter some issues or bugs. But overall, it's an affordable platform with comprehensive tools. In addition, you can create an online store and sell physical products.
Kajabi, on the other hand, is the best platform for digital products. Everything you need to launch, market, sell, and deliver your courses is available. Moreover, it has a great page builder and email marketing tool.
Winner
Tie. The "best" will depend on your needs and taste.
GrooveFunnels vs Kajabi: Pricing
This is where things get interesting. Even if GrooveFunnels and Kajabi offer almost the same features, they have different pricing plans.
GrooveFunnels offers a free lifetime plan. You can enjoy many features, but they are limited. Besides, their free plan also charges a platform fee of 3%.
It's suitable for starters, but you need to upgrade to their paid plans if you want to use all the features.
Here's a table of the prices and features to give you a better idea:
Kajabi, on the other hand, only offers a 14-day free trial.
Sometimes they extend it for up to 30 days whenever they have promos.
The three Kajabi plans are Basic ($149/mo), Growth ($199/mo), and Pro Plan ($399/mo.)
Check out this table from Kajabi pricing:
Winner
GrooveFunnels. It offers a free plan, and it's way cheaper than Kajabi. GrooveFunnels is the best choice for entrepreneurs on a budget.
Overall Winner: Final Verdict
It wasn't easy to choose the best among these two because they are fantastic. However, I will select Kajabi as the winner for this comparison.
Kajabi is an amazing tool, and it has been around longer than GrooveFunnels. GrooveFunnels has a lot of potential, so this may change in the future, but when it comes to reliability and stability, Kajabi is the better choice.
In summary, Kajabi is for:
those who want to create digital courses and want to have an all-in-one platform;
people who wish to provide a smooth and amazing membership and community experience for their students;
and those who want to sell and market their digital products or courses with ease and elegance.
While GrooveFunnels is for:
those who want to sell online and physical products;
those who want an all-in-one tool that doesn't break the bank;
and those who want to get a lifetime free plan.
In the end, you still have to try both platforms to see which one suits your needs. But I hope this comparison helped!
Related Comparisons: