SamCart is one of the best eCommerce platforms to consider to sell online products. However, not everyone interested has the budget to subscribe to it.
But here's some good news! This year's SamCart Black Friday deals offer an incredibly huge discount that you can enjoy for a year.
If you're interested to know more about the SamCart Black Friday sale, keep scrolling!
Samcart Black Friday/ Cyber Monday Deals 2023
From Black Friday to Cyber Monday, SamCart will be giving away up to 40% discount on all of their plans.
On top of that, it will also extend the length of the free trial this Black Friday. Users can enjoy a 45-day free trial instead of the usual 14 days.
However, these Black Friday deals are only applicable if you subscribe to the annual billing.
Discounted Plans for SamCart Black Friday Deal
SamCart currently has three plans – Launch, Grow and Scale. Let's take a look at each one of them, their actual price, and see how much you can save if you'll go for the SamCart Black Friday deal.
SamCart Launch Plan
This plan is ideal for newbies. If you haven't experienced selling an online course, ebooks, or subscriptions, you can start with the Launch Plan.
It has all the needed features to help you create and market your first online product or service. The Launch Plan gives you access to basic integrations, premade templates, drag-and-drop builder, and unlimited product creation.
In addition, it also provides a sales report dashboard to help you monitor your earnings and performance.
The original SamCart pricing costs $588 a year. But with SamCart Black Friday deal, you'll only pay $352.8 for one year.
SamCart Grow Plan
If you already offer online services or have experience selling your online courses, Grow Plan can help you increase your sales conversion rates.
This plan gives you more advanced integrations, a 1:1 coaching call for professional advice, and allows you to create the perfect sales page.
Grow Plan includes all the features you need to become more visible on search engines, boost sales, and strengthen your branding.
If you choose to skip the SamCart Black Friday sale and the Cyber Monday deals, it will cost you $1,188 for the annual billing. However, you'll only need to pay $712.8 for a year with the discount.
SamCart Scale Plan
Scale Plan offers the most advanced features. It's best for online businesses or creators who want to bring their business to a different level.
Under Scale Plan, some tools to look forward to are CRM and API integrations.
With CRM, you can better cater to your client's needs and increase customer value by building better customer relationships.
On the other hand, API tools allow you to automate your workflows so you can focus more on what matters and work efficiently.
Samcart will also provide you with a dedicated expert to guide you along the way.
With the SamCart Black Friday deal, you can get the Scale Plan for $2,100 for one year. The annual billing costs $3,504 or about $292 per month without the promo.
You can save almost half from the regular price with SamCart Black Friday deals, which I think is awesome. Especially with all the features, you can get.
How to Activate Your SamCart Black Friday Deals
Activating your discount is relatively easy. You don't need to wait for any coupon code. You only need to follow these steps:
Go to this link, and you'll see the updated pricing plans for SamCart Black Friday/Cyber Monday.
Choose the plan you'd like to get. You may scroll down to see a detailed comparison of all the SamCart pricing plans.
Click the "Get Started for Free" button.
Provide your contact information as well as your credit card details.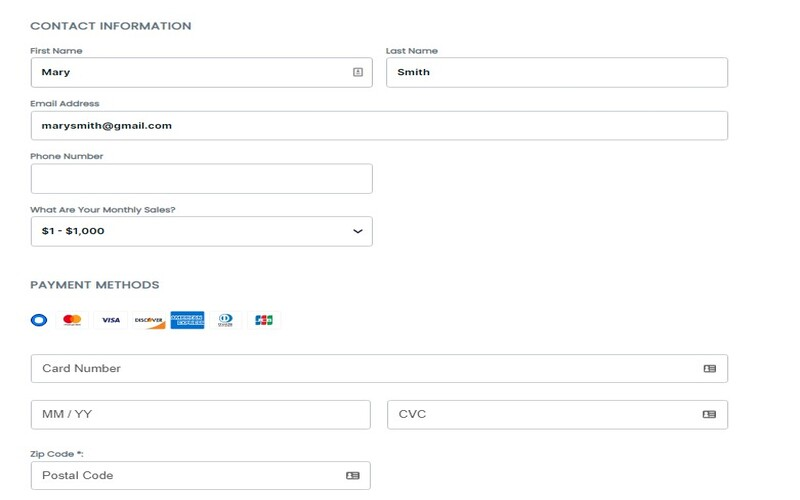 Choose "Place Order Now." You will only be charged the annual billing amount after the 45 days free trial. The discount will automatically reflect on the screen.
After that, SamCart will send you your online receipt, verification code, and a welcome email with a tutorial. You can start using your SamCart account right away.
Congratulations! You can now create unlimited products and launch your business online with SamCart!
But wait.
If you're reading about the SamCart Black Friday discounts and all but still have no full grasp of what SamCart can do, you should read the next part of this article.
I'll discuss SamCart, who it is for, and why it's a better choice than some competitors.
What is SamCart?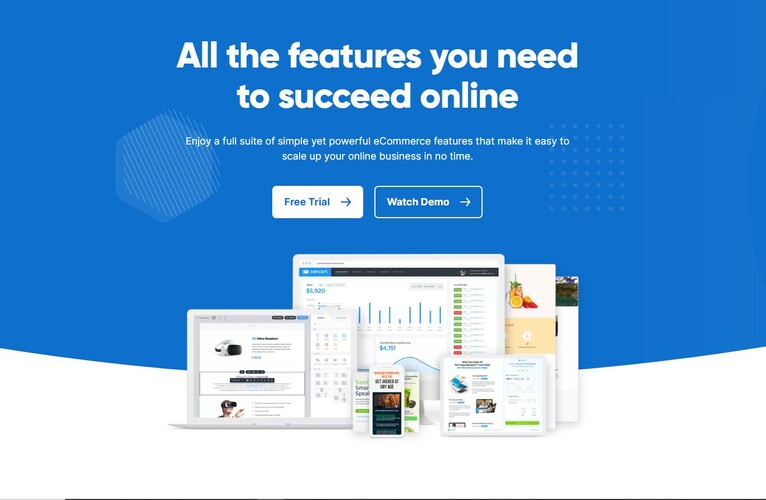 SamCart is an e-commerce platform founded by Scott and Brian Moran in 2014. The software's main purpose is to act as an online shopping cart for your store and provide a smooth transaction for your clients.
But aside from that delivering your digital products, SamCart also offers more tools to help you launch, market, and promote them. The team behind the platform wants to help increase your sales and grow your business.
Who is SamCart For?
SamCart can cater to a lot of people and in different niches. It's for online business owners, creators, coaches, professional bloggers, agencies, experts, non-profits, side hustlers, and even authors who want to maximize their cash flow and have a better system in place.
SamCart's interface is user-friendly and pretty easy to set up. So a newbie business owner or seller won't feel overwhelmed. But it also offers advanced features for experienced sellers.
Why Choose SamCart?
There are so many reasons to love SamCart. Here are some of them:
Offers amazing features and resources to help scale your business;
Has superb customer support (#provenandtested);
Provides hand-picked integrations to make sure you're getting the best software in the market;
Works for selling digital or physical products;
Offers 30-day money-back guarantee for new users;
And zero transaction fee.
Related:
SamCart Features
The following are the features SamCart users love, why they chose SamCart, and why you should consider the SamCart Black Friday deal this year:
Unlimited Digital Products
Drag & Drop Builder and Pre-Designed Templates
With SamCart, you can create an attractive landing or checkout page for your online business in just a few minutes, even without experience or coding knowledge.
Order Bumps and One-Click Upsell Feature
Putting one-click upsells and order bumps can make a huge difference in your sales. You can easily set them up with SamCart.
A/B Testing
This feature lets you determine which changes on your landing page lead to higher conversion based on the collected data.
Cart Abandonment & Subscription Saver
With cart abandonment, you'll be able to email and offer some promo codes or upgrades to visitors who didn't proceed with their purchase. On the other hand, Subscription Saver deals with the declined credit cards of your subscribers.
Speed & Security
SamCart promises a 99.9% uptime for its users. It also complies with all certifications to ensure that all personal information and credit card data are safe and will remain private.
Advanced Reporting
Track and monitor all valuable data in real-time, so you'll know the direction of your business. Some data you can track are sales, charges, and traffic.
What is SamCart Missing?
SamCart is an ideal platform, yet it's not perfect. You need to know what SamCart can't provide you with, even if its pros overpower the cons.
No website builder.
No built-in tax calculator.
Lack of tracking IDs for their affiliate system.
More expensive than some of its competitors.
Lacks some tools to set up sales funnels easily.
SamCart Competitors
In 2023, SamCart is not without stiff competition.
Shopify
Shopify is one of the most popular e-commerce platforms, and more than 1.7 million businesses worldwide use it.
Shopify's advantages over SamCart are that it provides cheaper plans, has a greater range of payment processors, and has web hosting services. You can build a website with Shopify, but you can't do that with SamCart.
On the other hand, there are some features that SamCart provides better than Shopify. For example, SamCart offers free templates while Shopify charges for them.
The advanced report feature is available in all SamCart plans, but it's only accessible in the Advance Plan of Shopify. Lastly, it's easier to build a checkout page, apply one-click upsells, and do split testing with SamCart.
Click Funnels
Although Click Funnels and SamCart offer similar tools, they are different in various areas.
SamCart is an online cart with landing and checkout page builder, while Click Funnels is a detailed sales funnel builder.
It's more complicated than SamCart because it tackles the entirety of a sales journey, from getting prospects to turning them into customers. Thus, Click Funnel is more expensive than SamCart.
If you're looking for software that can help you build better sales funnel, more optimized landing pages, and more market automation, Click Funnel is the right choice.
But if you want something focused on the checkout pages or already have a sales process in place, SamCart is the perfect option.
Related:
SamCart Success Stories
To inspire you to go for SamCart Black Friday deal and start launching your products using it, here are some success stories:
John Florey
SamCart helped John and his team at SAMA Labs automate sending invoices, setting up new billing agreements, and offering services to their existing customers.
They eliminated these tedious tasks on their to-do list, and that allowed them to focus on providing better services, getting more clients, and growing their business.
Cara Stein
Before using SamCart, Cara struggled to sell her digital products. She is a great author and course creator, but she has no idea how to market and make money from her works.
After subscribing to SamCart and mastering the 1 page funnel, Cara could learn a new selling approach.
Twelve months later, Cara was able to sell over $181,000 worth of books and services through SamCart.
SamCart FAQs
Who can take advantage of SamCart's Black Friday deals?
Everyone is qualified for SamCart's Black Friday deals. Whether you already have an existing product or you are still in the process of doing it.
Is SamCart worth it?
Absolutely. Although it might be a little pricier than its competitors, SamCart offers some of the best tools and advanced features you need to launch and deliver your products.
Where can I get discount codes for the Black Friday/Cyber Monday deals?
For their Black Friday deals, you don't need any coupon codes. You can go to their website during the promo period or click this link.
SamCart Black Friday Deal 2023 Summary
Although Black Friday sales are perfect for buying your family and friends gifts for the upcoming holiday, you can also use this time to purchase something that will benefit you.
And if you're one of the small business owners who want to earn more from their membership sites or online courses, I highly recommend you to use SamCart.
SamCart's Black Friday offer is only available for a limited time. So if you're ready to create your digital products and start selling online using this platform, now is your chance!
You May Also Like: