Black Friday is coming soon! You might be wondering whether Thinkific will offer a Black Friday and Cyber Monday deal this year, just like last year.
Well, here's the good news! They will offer something good for a limited time. And we will discuss it in this post.
Let's also talk about the features and freebies you can enjoy with Thinkific Black Friday deal.
Who Is Thinkific For?
Thinkific is an online platform dedicated to individuals and businesses who want to showcase their knowledge and expertise by offering online courses, ebooks, and coaching or membership services.
Whatever your niche or topic is, whether you're teaching about personality growth, calligraphy, or dog training, you can offer it on this platform.
Thinkific Features
Thinkific isn't your typical LMS platform. Compared to some of its competitors, this platform gives you more flexibility, freedom, and options in creating, marketing, and selling your online courses.
They have many amazing features, which you can view on the Thinkific website. But, here's a summary of what Thinkific offers:
Course Creation
Course creation is very simple with Thinkific since they offer full content hosting. It allows you to import existing course content, create unlimited courses and use different media formats and course content.
You can also choose to publish a mini-course, drip, bundles, or standalone ones. If you're wondering, a mini-course is shorter than regular ones and can be used to support your flagship course.
In comparison, drip gives you the ability to release content depending on the scheduled date.
If you want to increase student engagement, you can host live lessons via Zoom, provide on-demand or blended classes, and offer membership services.
Site Administration Features
Thinkific has an advanced data tracking feature that lets you track all kinds of reports you need, such as orders, revenue, enrollment, and students' progress and engagement.
If you need more analytic tools, you can integrate third-party apps into your account.
Customization and Design Features
The platform's design features let you easily set up and build your website and pages. It includes some website themes you can use at no additional cost. Buy, they also offer paid ones.
Thinkific offers full customization and custom branding of your site and sales pages. You can either do it through coding or by using their drag-and-drop feature. You can also set your own domain and erase all the branding.
Sales & Digital Marketing Features
The best thing about Thinkific, aside from its wonderful marketing tools, is that it doesn't charge any transaction fees.
It also supports over 130+ currencies so that you can accommodate enrollees internationally. To properly market your courses, you can create coupons and subscriptions.
Thinkific allows you to customize your Title, Meta Description, and Thumbnail Image for search engine optimization.
You don't need to worry about email marketing and the e-commerce side of your business, as the platform is integrated with Shopify and various email marketing software. You can connect Thinkific with so many digital marketing tools.
Thinkific also has an upsell feature you can include in your flagship course. You can use this to offer other digital products and increase your sales.
Security
The platform ensures secure and reliable cloud hosting, 99.9% uptime, and 24/7 monitoring. In addition, Thinkific provides daily backups, so you don't need to worry about losing your files. They also show reports of all data in your site dashboard for full transparency.
If you encounter any issues, you can reach customer support through Livechat or email.
Thinkific Black Friday Deal 2023
This year, the platform will only offer a discount for their Pro Plan and not all their payment plans. You'll get access to almost all course creation and sales features. On top of that, the platform won't charge any transaction fees.
The main offer will include a discounted price of their Pro plan and some additional features on their All-in-1 Bundle Deal. For only $396, you'll get: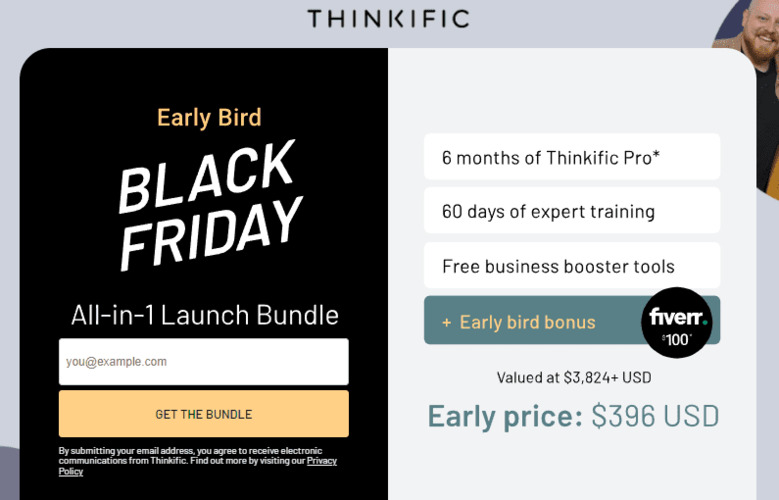 Six months access to Thinkific Pro, priced at $594
Free exclusive business tools and materials, priced at $130
60 days of live expert training, priced at $3,000
Blue Snowball Microphone, priced at $50.
This bundle will be available from November 26-30.
There's also an Early Bird offer. Instead of getting a Blue Snowball Microphone, you'll get a $100 Fiverr credit if you avail of the promo before November 26.
If you want to get this limited-time bundle worth over $3,700, you can purchase it starting November 19 until November 30.
In Summary
Although Thinkific isn't offering a discount on all its plans, this is still a great bundle!
And what makes the Thinkific Black Friday and Cyber Monday offer special is the live training and exclusive tools you'll get.
They are essential if you're a beginner or you want to increase the chances of your online course's success.
Don't miss this limited-time deal and start building your school today. Click this link to get started.
Thinkific FAQs
Why Should I Choose Thinkific?
It is one of the best course creation platforms out there. While others give you free trials, this platform provides a free version.
It also provides various payment plans to choose from. And with the paid plans, you get full custom branding and customization on your business' site, access to advanced data tracking, and more.
On top of that, the platform knows how important your students are, so they made some Thinkific features to increase student engagement and create an amazing experience.
What kind of content can I upload to Thinkific?
The platform accepts a wide variety of content and media format. You can upload images, audio, videos, PDFs, ebooks, and even presentations!
Do I need a web host before I purchase Thinkific?
No. The platform will securely host your site and pages, so you don't need to worry.
Is the Thinkific Black Friday Deal Worth It?
Absolutely. Some platforms only offer discounts to help you save money, but Thinkific takes it to the next level.
Aside from the Thinkific features of the Pro plan, you'll get additional resources and tools on Black Friday that will help you launch your product successfully. I'm talking about getting the live expert training and exclusive materials at no additional cost.
So if you'd like to grab this limited-time bundle worth $3,700+, go to the website or click this link.
Is Thinkific trustworthy and safe?
Absolutely! This platform has been around since 2012. It has become a partner of over 50,000-course creators, has over 100 team members, and caters to more than 36,000 students.
The numbers continue to grow, and this only shows that Thinkific is a reliable platform.
Moreover, the tool provides an SSL feature that keeps your and your students' data and information safe from third-party apps and hackers. They secure data and deliver full transparency to their users.
Shop More Deals: