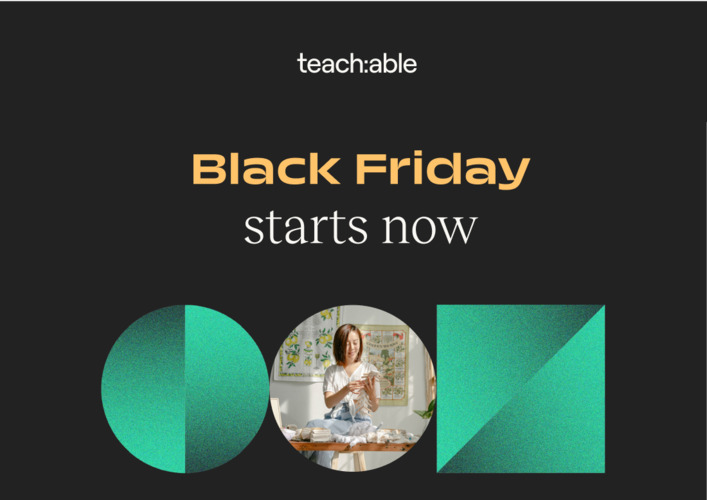 Teachable, a course creation platform, offers a huge discount this Black Friday! If you've been searching for the best platform to house your own online course content or coaching services, you should check it out.
Let's talk about the Teachable Black Friday deal, its different plans, and what makes it the top choice among the Learning Management Systems (LMS) in the market.
Why Choose Teachable
Teachable is popular for its beginner-friendly interface and affordability.
It's great for professionals planning to publish their first online course.
However, it can also cater to busy professionals or online business owners who hate using complex tools for creating and selling online courses.
Aside from its interface and price, here are other things you'll love about this platform:
Unlimited Usage
Teachable lets you create unlimited online courses and coaching services in all plans.
Aside from that, you can serve unlimited students, get unlimited hosting and publish videos to your heart's content.
You don't need to worry about limitations as you're free to offer as many products as you want.
Reliable, Accessible, and Secure
Teachable is a cloud-based Learning Management System.
You can access your Teachable account anywhere and anytime you want as long as there's an internet connection.
Also, there's no need to download anything for course creation because all the tools are available on your online dashboard.
Another good thing about the platform is they have automatic upgrades, and the support team monitors everything 24/7. This is to ensure that you and your students won't experience downtime.
When it comes to security, Teachable promises that your data will remain private, as well as your student's information.
The managed course platform also offers a secured hosting service so your course website will be safe from fraud.
Superb User Support
Teachable provides a knowledge base to get answers to FAQs and access to how-to's content.
For the Free plan and the basic one, you send them an email to address any issues. And for higher plans, Live chat is available.
30-day money-back guarantee.
Once you're not satisfied with the platform, you can easily ask for a refund. Teachable will issue you a full one regardless of your reason.
These are only a few reasons you shouldn't miss the Teachable Black Friday sale.
Now, let's check some important features of the platform.
Teachable Features
Teachable is cheaper than most of its competitors, like Thinkific and Kajabi. However, that doesn't mean that the quality of this platform is not as good as the other LMS. Here's the list of what Teachable offers:
Lots of integrations and customizations.
A comprehensive dashboard to track sales and insights.
It accepts over 130+ currencies.
Pre-design templates for your online course dashboard.
Editable and well-structured sales pages that can help you sell more.
Compatible with your existing website.
Access to Teachable University.
Teachable Pricing Plans
I will show you the regular pricing first, then the Teachable Black Friday sale pricing so you can see how much you can save.
Regular Pricing Plans
You have the option to pay monthly for the regular pricing. However, Teachable provides a discount for annual billing. The catch is it's not as big as you can get during this Black Friday.
For the monthly billing:
The basic plan costs $39/month;
Pro plan costs $119/month;
And Business plan costs $299/month.
If you choose annual plans, you'll need to pay:
$348/year for Basic Plan;
$1188/year for Pro Plan;
And $2988/year for the Business Plan
Teachable Black Friday Deal 2023 and Plans Details
You can get up to 58% off their yearly plans with the Teachable Black Friday offers. The higher plan you get, the better discount you'll receive.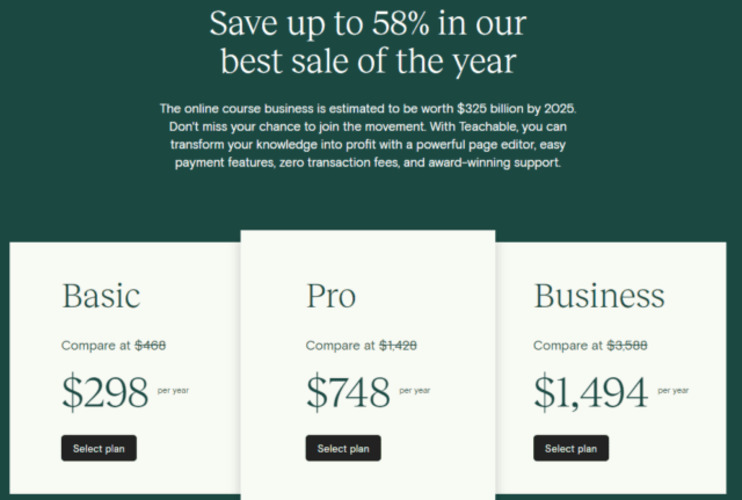 Here's a comparison of the regular monthly and annual plans vs. the Teachable Black Friday deals:
See the difference with the Teachable pricing plans? You can save tons of money if you avail the Teachable Black Friday deal. Below is a summary of what you can get from each one:
Basic Plan
Like the Free plan, the Teachable Basic plan charges you transaction fees but less. For each paid product, they will deduct 5% from your sale.
You'll get access to unlimited usage, email support, and some basic features like pre-designed templates, custom domain, drip course content, and third-party integrations. This plan also allows you to accommodate unlimited students.
However, some good features are missing from the Basic plan. The Live chat isn't available for this one, and you can't access the upsell, graded quizzes, and course completion certificates features.
Pro Plan
If you hate transaction fees, their Professional plan is the best option.
It also provides better customer support. And you can add up to four team members to access your dashboard.
For the Professional plan, Zapier integration is available. Aside from the available integrations, you can access over 500 more through Zapier.
The affiliate program is also available in this plan. Plus, you can track your students better with the advanced course reporting tools.
Two of the downsides of the Pro plan are it doesn't give you access to advanced customization of your site and doesn't allow bulk import students.
Business Plan
This plan is perfect for bigger schools with more team members who want full customization on their website and courses.
You can enjoy everything under Pro Plan if you get this plan, like zero transaction fees. Plus, more advanced features like bulk student enrollments. Moreover, you can add up to 19 admin-user and customize user roles.
Editor's note: All plans charge processing fees. You can view all the details and the full features of each plan on the Teachable Pricing Comparison page.
Imagine getting all these amazing features in a much lesser amount with Teachable Black Friday deals. Pretty awesome, right?
If you're ready to make a purchase, you may click this link. Choose the plan and fill out the information form. After that, you will receive an email and log in to your dashboard.
You don't need to do anything else as the system will automatically deduct the discount and charge you only with the price under Teachable Black Friday deals.
Conclusion
Black Friday is a great time to find the best deal on digital tools that can help you gain passive income. Use it as a chance to purchase or invest in things that can benefit you in the long run, just like creating courses.
The platform doesn't usually offer discounted prices throughout the year, and this might be the only chance you have. So what do you think of the Teachable Black Friday deals?
Don't miss this once-in-a-year chance. Go to this link and take advantage of Teachable Black Friday Deal now.
Teachable FAQs
Who is qualified to avail of the Teachable Black Friday discounts?
Everyone is qualified for the Teachable Black Friday deal!
Whether you already have access to the free version or you're a new customer publishing your first course. And whether you're an online business owner or an expert in any field who wants to offer their own courses or coaching services, this Black Friday sale is for you.
Does Teachable allow the creation of web pages?
Yes. You can create multiple pages with your Teachable plan. Examples are the home page, privacy policy, and sales pages for your online courses.
Can I sell digital products with Teachable?
Teachable only provides tools to sell informational courses, coaching, and membership services. The platform is not for selling ebooks, music, and webinars.
Shop More Deals: