When it comes to running an online business, there are a lot of factors to consider.
The list goes on – from product development and pricing to marketing and sales. But one crucial decision you must make is choosing the right platform to power your business.
If you're stuck between Ontraport vs Kajabi, this in-depth comparison will show you the similarities and differences between their features. We'll also share which one we think is the best all-in-one platform.
Let's get started!
Ontraport Vs Kajabi Overview
Kajabi is an all-in-one software solution that helps an online business build, launch, promote, and sell online courses and digital products.
Ontraport, on the other hand, is more of a comprehensive marketing platform. It provides tools for automating sales and marketing tasks to help you scale your business.
Here's a more detailed comparison to show you the key differences between the two platforms:
Ease of Use: Ontraport vs. Kajabi
Ontraport and Kajabi both have a learning curve, but Kajabi is a more straightforward platform.
First, the design of Ontraport is a little dated. The user interface is not as intuitive and smooth as Kajabi's. Additionally, there's too much data and metrics in the platform, which is suitable for advanced users but unnecessary for beginners.
In contrast, Kajabi has a clean and modern design that's very easy to navigate. Even if you're new to online course creation, email marketing, and website design, you'll get used to Kajabi quickly.
Usability Test
To test the usability, I tried creating a product. The feature is accessible on both platforms. However, after I fill out the product data form inside the Ontraport, I have no idea what to do next.
When I click on the product I created, it only shows the details. No text tells me how to make a membership site or if I should start creating web pages.
Conversely, the steps on Kajabi are pretty straightforward. After choosing what I want to create, it immediately shows me the next steps I need to take.
Winner: Kajabi. It's much easier to use for beginners and non-techie entrepreneurs.
Course Creation Tools: Ontraport vs. Kajabi
Kajabi is a gem when it comes to this feature. It's one of the best online course platforms in the market as it's comprehensive and powerful yet user-friendly.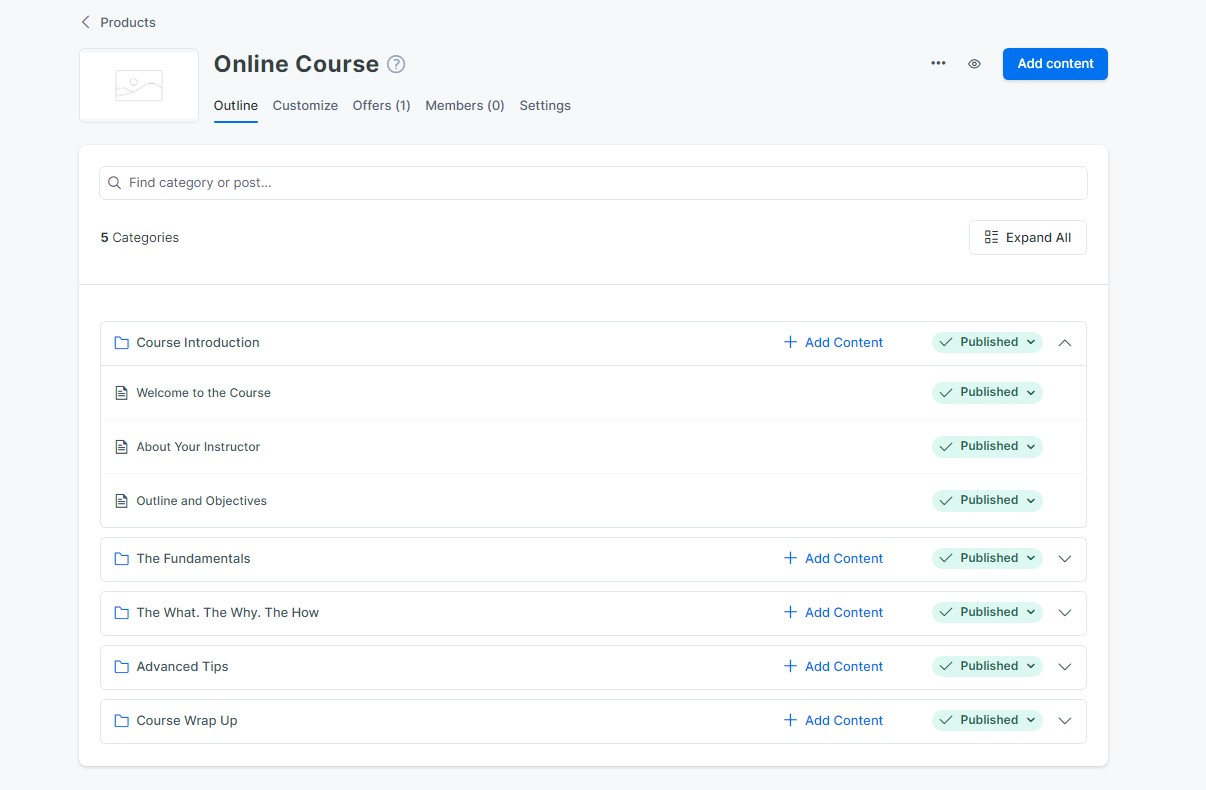 With Kajabi, you don't need any other software and integrations to create a professional online course. Additionally, learning to code or hiring developers isn't necessary.
All you need is to follow the simple steps, use the Product Blueprint of Kajabi, and add content to your course curriculum. You can upload videos, PDFs, images, and text directly into Kajabi.
Besides building online courses, you can also offer the following with Kajabi:
membership sites
podcasts
coaching programs
video training
Conversely, Ontraport doesn't have an online course creation tool. If you want to offer online courses inside, you'll need to pay for an additional platform like Kajabi or Thinkific and then integrate it with Ontraport using Zapier.
However, providing an online course through a membership site is still possible. The disadvantage is it won't be as easy as with Kajabi. Before building a membership site, you'll need to use WordPress and plug-ins.
Winner: Kajabi. It provides everything you need to create online courses without coding, integrations, or added costs.
Website Building: Kajabi vs. Ontraport
Kajabi
Kajabi not only offers powerful course creation but also provides better web-building tools that help you create a high-converting website.
The drag-and-drop editor is one of the most popular web-building tools inside the Kajabi. You can use it to edit and customize your pages fast.
Just last year, Kajabi introduced its new website builder. It now offers a more unified experience, better customization, and flexibility.
Ontraport
Regrettably, this feature is missing on Ontraport. It doesn't offer a website builder, but it does have a page builder.
You can still create a landing page for your products. However, you'll need to get WordPress hosting to provide a whole website experience for your audience. If you're not knowledgeable about this platform, you'll need to hire someone who is or take the time to learn about it.
Winner: Kajabi. You get the tools you need to build a premium, SEO-optimized, and responsive website on one platform.
Themes and Templates: Ontraport vs. Kajabi
Similarities: Kajabi vs. Ontraport
Ontraport and Kajabi both offer a great selection of themes for their pages and email marketing campaigns.
They are also customizable. So aside from the content, you can change the color, font style, font size, and sections of your chosen template.
Additionally, all the themes of the platforms are mobile-responsive. Your visitors will have a great viewing experience on a desktop, tablet, or mobile phone.
Differences: Kajabi vs. Ontraport
However, there are two things you need to take note of:
The availability of themes and templates in other areas of your online business.
The freedom to upload your own theme.
Kajabi offers pre-made themes for your online courses, membership sites, and websites, not only email and landing page templates. And since the online course and website builder is non-existent in Ontraport, there are no themes or templates for these areas.
Moreover, you can upload your themes directly on Kajabi if you're unsatisfied with the available ones. It's not possible with Ontraport, but to be fair, they provide more options for their users, both free and paid.
Winner: Kajabi. You can use templates for different areas of your business, such as membership sites and websites, and you can upload your own.
Marketing Tools: Kajabi vs. Ontraport
You'll be impressed by how much marketing firepower is available in Ontraport and Kajabi.
Let's discuss the business marketing tools and features in detail:
Email Marketing Tools
Ontraport and Kajabi allow users to send email broadcasts, determine the click and open message rates, and add marketing automation. You can also set up autoresponders to nurture your leads and customers.
These marketing tools are essential in improving customer retention rates and crafting a more effective strategy.
Both Kajabi and Ontraport also offer customizable visual campaign builder that makes it easy to design beautiful email campaigns.
However, Ontraport is more technical. It's suitable for digital marketers who want more advanced marketing tools and something that can provide detailed data.
For instance, Kajabi's email marketing dashboard only shows the number of emails sent, opened, clicked, and unsubscribers.
On Ontraport, you'll see the same information. But it will also show the number of complaints, opt-outs, not clicked, and not opened. These are helpful, especially if you want to improve a campaign that's not performing well.
Pipeline / Sales Funnels
Creating a sales funnel is accessible on both business platforms. The sales funnels for Ontraport are under the "Systems" tab. While Kajabi ones are inside the "Pipelines."
They offer customizable templates, but Kajabi allows you to create a pipeline from scratch and add extra landing pages to your sales funnel.
Kajabi Pipeline builder also looks more modern than the Ontraport one. However, users will appreciate its more detailed steps and instructions.
Customer Relationship Management
Both Kajabi and Ontraport come with Customer Relationship Management (CRM) tools. They are designed to keep track of your leads, customers, and their interactions with your business.
Kajabi allows you to serve up to 100,000 contacts and 20,000 members. It's more than what Ontraport offers, which is 20,000 contacts for its highest plan.
Moreover, Kajabi has 50 custom fields and built-in segments. You can use them to categorize your market, store relevant information, and deliver more personalized marketing emails to your audience.
In contrast, Ontraport is more focused on sales teams. It's ideal if you need a CRM for a large organization with an outbound sales focus.
Winner: Tie. Kajabi has an outstanding balance of simplicity and power, perfect for small business owners. On the contrary, Ontraport's features are ideal for digital marketers and sales teams.
Integration: Kajabi vs. Ontraport
Connecting other software to improve your productivity is possible with Ontraport and Kajabi.
Kajabi offers native and non-native integrations through Zapier, while Ontraport has its own comprehensive list.
Some integrations inside Kajabi are:
Mailchimp
ConvertKit
Facebook Pixel
Clickfunnels
Google Analytics
Similarly, Ontraport allows connection to powerful software, including:
Shopify
WordPress
WooCommerce
Zapier
QuickBooks
Winner: Tie. Both Kajabi and Ontraport have a lot of integrations that will benefit your business.
Automation: Ontraport vs. Kajabi
Most businesses use sales and marketing automation, but Kajabi and Ontraport offer access to other types of automation.
Kajabi
Kajabi has basic and advanced automation. Although there aren't so many options, they are still helpful in streamlining your process.
Some marketing automation you can create on Kajabi include:
Subscribing or unsubscribing to emails
Providing or revoking offers
Sending an email or coupon
Registering and deregistering for events
Adding or removing a tag
Ontraport
If you want to make more complex automation, Ontraport is a better option.
It provides pre-made yet customizable templates. You can change the order of the steps, add or remove conditions, and edit the existing ones.
Some automation templates available are:
Sign-ups with declined credit cards
Cancel membership after the term expires
SMS notification
A/B Split-testing
Consultation follow up
For instance, one visitor tried to register for your membership site, but their credit card was declined. You can create an email sequence that will notify them to change their payment method.
Winner: Ontraport. It provides more automation options for various purposes.
Student Engagement Tools: Ontraport vs. Kajabi
Since Ontraport doesn't have a built-in course creation tool, it lacks student engagement tools like other online course platforms.
Kajabi, on the other hand, comes with a complete package. You can add quizzes, assessments, and discussions to make your courses fun.
Moreover, Kajabi's courses are also responsive on mobile devices. Your students can access the online courses and community anytime and anywhere.
Customer Support: Kajabi vs. Ontraport
The greatness of a tool doesn't only rely on its features. The quality of customer service is also an important aspect to consider.
The great thing is that Kajabi and Ontraport both have fantastic customer support.
However, Kajabi offers 24/7 email and live chat assistance. You can expect someone to answer your queries any time of the day.
Besides that, you can get free access to the Kajabi University, which is full of helpful guides and video tutorials on how to use Kajabi.
On the other hand, Ontraport's customer service is also reliable, but you can only reach out to them for a limited time.
Monday to Thursday – 6 AM to 12 AM
Friday – 6 AM to 9 PM
Saturday and Sunday – 9 AM to 9 PM
If you need help outside of these hours, you can check out their knowledge base instead.
Winner: Kajabi. 24/7 customer support is a big help, especially if you encounter technical difficulties.
Ontraport vs. Kajabi: Pricing and Plans
Now for the last part of the comparison, let's see how much you need to pay for Kajabi vs. Ontraport.
Kajabi
Kajabi currently has three pricing plans.
Basic – $149 per month
Growth – $199 per month
Pro – $399 per month
The platform offers a 20% discount if you sign up for the annual billing.
You'll get unlimited landing pages and email campaigns, access to Kajabi University, marketing automation, and webinars in every plan, plus 0% transaction fees.
The difference between the pricing plans is the number of products, pipelines, members, and admin users you can have. The higher plans also include additional features like an affiliate program and code editor.
For example, you can create up to 100 products and pipelines in the Pro Plan, but only 3 for the Basic Plan. Additionally, you can support up to 10,000 active members in the Growth Plan, but only 1,000 on the cheapest plan.
However, all the essential features are included in Kajabi's basic pricing plan. For more info on Kajabi prices, click here.
Ontraport
Meanwhile, you can choose from four pricing plans with Ontraport.
Basic – $79 per month
Plus – $147 per month
Pro – $297 per month
Enterprise – $497 per month
Although the Basic Plan of Ontraport is cheaper than Kajabi, you can't get as many features.
For example, the Basic Plan doesn't have eCommerce solutions or automation. It restricts you from selling digital products and accepting payments.
If you want the best value and access to all features, you need to buy the Pro Plan or the Enterprise Plan, which is more expensive than Kajabi's.
Winner: Kajabi. It offers more bang for your buck, especially if you sign up for the annual plan.
Ontraport vs. Kajabi: Who Won The Comparison
Indeed, both platforms are excellent. They are packed with features that can help you grow your business. However, they cater to different needs.
If you're selling online courses and looking for an all-in-one platform to help you with everything, then Kajabi is the better choice.
On the other hand, if you have a sales team or company needing advanced marketing tools and better CRM, then Ontraport is the way to go.
So which platform do you prefer? If you need hands-on experience before deciding, sign up for their 14-day or 30-day free trial.
Related Comparisons