In the digital era, where businesses aim to magnify their online presence, all-in-one platforms like Systeme.io and Kajabi are stepping up as essential tools.
These robust platforms might appear similar at first glance. But in certain areas, one tends to outshine the other. That's why it's crucial to understand each platform's strengths and weaknesses before making your pick.
Systeme.io prides itself on simplicity, affordability, and catering to a broader audience. It's a valuable tool for those in the early stage of building their platform or scaling their ventures.
Meanwhile, Kajabi targets knowledge entrepreneurs seeking premium tools for a richer, more immersive online experience.
However, there's more to these platforms than what you see on their landing pages. And this article aims to uncover those details.
So, let's delve into a thorough comparison between Systeme.io and Kajabi.
What is Systeme.io?
Systeme.io is a relative newcomer on the scene, yet its users are quickly growing.
Established in 2018 by Aurelien Amacker, this all-in-one platform made a quick impact. The list of positive Systeme reviews explains why. But you'll also know why as we discuss it further.
This platform offers a comprehensive toolkit. And it's key features include a user-friendly website builder and potent email marketing tools. Plus, its streamlined sales funnel system makes Systeme.io a one-stop shop for businesses of all kinds.
But here's the kicker. Systeme.io breaks from the pack with its "Free Forever" plan. Unlike time-bound free trials, this feature provides long-term accessibility. It's a real game-changer, especially for entrepreneurs on a tight budget.
In the coming sections, we'll peel back the layers of these features. We can show you how Systeme.io can cater to your digital marketing needs.
Who Should Use Systeme.io?
So, who's the ideal user for Systeme.io?
If we were to put it simply, it's anyone looking to grow an online business, regardless of experience level or industry. That includes:
Entrepreneurs
Small Business Owners
Course Creators
eCommerce Stores
What is Kajabi?
Now, let's turn our attention to Kajabi. Unlike Systeme.io, Kajabi is no newcomer – it's been rocking the scene since 2010 and has quite a track record.
Kajabi simplifies creating and selling knowledge-based digital products primarily tailored for coaches and course creators. And this platform has worked wonders for many.
For over a decade, Kajabi has powered 50,000 knowledge entrepreneurs who've raked in over $4 billion in sales. Impressive, right?
One thing that genuinely sets Kajabi apart is its commitment to providing an excellent user experience.
Having tried and tested several marketing tools, I can vouch for Kajabi being one of the most organized and minimalistic platforms. It's not just about creating a premium-looking website and pages; it embodies that luxurious feel throughout its interface.
Who Should Use Kajabi?
You can benefit from this platform if you're in the business of sharing knowledge or digital resources like the following:
Coaches and Consultants
Course Creators
Digital Entrepreneurs
Influencers and Thought Leaders
Systeme.io vs Kajabi – Comparison at a Glance
Free Account (Instead of Trial)

Startup – $27/month; $228/year

Webinar – $47/month; $396/year

Unlimited – $97/month; $828/year

Basic – $149/month; $1,428/year

Growth – $199/month; $1,908/year


Pro – $399/month; $3,828/year

Website & Landing Page Builder

Membership Sites & Online Course Creation

Supported Media (for Courses)

Videos, Images, and Audio

Videos, Images, Audio, and Image Carousel


Available only on Growth and Pro plans


Upsells, Downsells, & Coupons

Number of Supported Currencies

PayPal, Stripe, Mollie, Flutterwave, Razorpay, Mercado Pago

Live Chat and Email Support

Kajabi vs Systeme.io – Pricing
Systeme.io wins points for its budget-friendly approach, with a free-forever plan perfect for anyone starting their online venture without much to spend.
The free plan has limitations but allows you to access all the core features.
As you upgrade, you get a higher usage cap, with the top tier offering free migration and even evergreen webinars. So, for an affordable, value-packed deal, Systeme.io is hard to beat.
What's more, they've recently upgraded their highest plan's offer. Remember the old 15,000 contacts limit? Now, for just $97/month, you get unlimited contacts!
Kajabi, on the other hand, is more of a premium player. It doesn't offer a free plan. But you can grab a 30-day free trial with our link (usually, it's just 14 days). The pricing starts at a higher tier, $149/mo., with the Pro plan topping out at $399/mo.
Yes, it's more expensive. However, you're investing in a time-tested tool with great features, like its comprehensive email builder and course creation tool.
Systeme.io vs Kajabi – Key Features
Website and Landing Page Builder
Both Systeme.io and Kajabi shine when it comes to creating sleek, SEO-friendly websites and landing pages.
They offer a drag-and-drop editor, though the approach varies a bit. Kajabi's editor works from the sidebar, while Systeme.io follows a more traditional route. Regardless, they're both working fine.
When it comes to templates, it's a draw. Both platforms serve up a host of gorgeous designs, and it really boils down to personal preference. However, Kajabi allows you to change your page's layout, while Systeme.io doesn't.
Systeme.io scores extra points for offering more customization options. You can tweak your web design, add animations, or create tables using HTML, CSS, or JS across all plans. Kajabi reserves this feature for its highest-tier plan.
A significant win for Systeme.io is the A/B testing feature, which is invaluable for optimizing your online business. Kajabi, sadly, lacks this option.
Both platforms allow custom domain linking, but you must hop onto a paid Systeme.io plan to access this feature. A fair deal, if you ask me.
Another incredible perk with Systeme.io is you can save sections for future use or set them as global elements. This is another feature that Kajabi misses out on.
Membership Sites and Online Courses
Creating and selling online courses or membership programs is simple with Systeme.io and Kajabi.
They make adding modules, lessons, students, or even course bundles possible in just a few clicks.
Each platform enables building a community, which can enhance your interaction with students.
Systeme.io, using the same website builder, stands out for its course design flexibility.
Kajabi, while having design restrictions, counters this with helpful templates.
Systeme.io also supports various media types and unique features such as image carousels and comment sections.
But there's a reason why Kajabi is a top choice for knowledge entrepreneurs – it takes course creation a step further with robust tools.
Its blueprint feature offers pre-made outlines, speeding up the course creation process.
And with the new AI content assistant, Kajabi can now provide customized guidelines for your online courses based on your description.
I was impressed by the results it provided. Besides customizing the outline for the online course, it also offered suggestions on the content I could include in my lessons.
Another standout feature of Kajabi is its integrative approach. For coaches, it enables pairing courses with live coaching or additional content such as podcasts or webinars. This results in a more personalized learning environment for students.
Lastly, Kajabi's quiz and assessment tool lets you monitor student progress.
And now, you can partner it with a certificate of completion. Kajabi enables you to create and send certificates directly from the dashboard without paying or connecting third-party apps.
Email marketing and automation features
The marketing showdown between Systeme.io and Kajabi is quite a spectacle. Both platforms bring their A-game with marketing automation and email campaigns.
Both platforms offer a visual and a classic editor for crafting engaging newsletters or email series. Kajabi, though, provides more editable templates than Systeme.io.
Additionally, you can schedule your email marketing campaigns for the optimal time to ensure you get higher engagement.
But here's what Systeme.io does better – automation. Automations help save time, streamline your processes, and ensure your campaigns are timely and targeted. Systeme.io offers two types: Rules and Workflows.
Rules are similar to the simple automation you can create with Kajabi – the good ol' "IF," "THEN" scenarios.
For instance, if a contact clicks a specific link in an email, they can automatically be added to a different campaign.
But then there's Workflows, the more advanced automation feature of Systeme.io. Workflows allow detailed conditions, delays, and split decisions to customize your audience's journey.
You can trigger multiple actions in one workflow depending on the behavior of your leads or contacts.
This complexity opens up possibilities and gives your business the power to deliver personalized and timely interactions.
CRM
Let's look at their Customer Relationship Management (CRM) capabilities.
CRMs are indispensable tools for maintaining and enhancing customer interactions and relationships. They allow you to track contact activities, segment your audience, and keep extensive records.
Systeme.io and Kajabi empower you to divide contacts and keep tabs on their activities. Whether adding contacts manually or importing them in bulk, these platforms simplify the management process.
Moreover, valuable metrics like recent activities, membership enrollments, and purchase histories are readily accessible on either platform.
Systeme.io goes a notch higher by offering the ability to add extra contact fields.
This enables more detailed record-keeping, like storing contacts' addresses, phone numbers, and company names.
Moreover, you can customize fields to fit your specific needs. Systeme.io provides insight into your contacts' email campaign subscriptions and survey form responses. And this is useful in fine-tuning your marketing strategies.
On the segmentation front, both platforms offer filters and tags.
However, Kajabi stands out by allowing segmentation based on email interactions, like identifying inactive contacts or those with bounced emails.
This segmentation level helps craft more targeted campaigns, boosting engagement and conversions.
Sales and e-Commerce Capabilities
When it comes to sales, both Systeme.io and Kajabi excel. They support key payment gateways like PayPal and Stripe. This makes accepting global payments a breeze.
Features like coupons, checkout forms, and flexible payment options also come standard. So you can provide promos and offer your audience trial periods, one-time payments, and recurring payments.
Additionally, both platforms allow upsell and downsell page creation.
However, Systeme.io takes the lead on the eCommerce side. It enables the setup and management of an online store for physical products.
This is something that Kajabi doesn't provide since its main focus is digital resources.
Systeme.io also supports 47 different currencies – an asset for global businesses.
While it lacks a sales tax calculator, it makes up with a product tax inclusion feature. SKU management is also supported, which is crucial for inventory and product differentiation.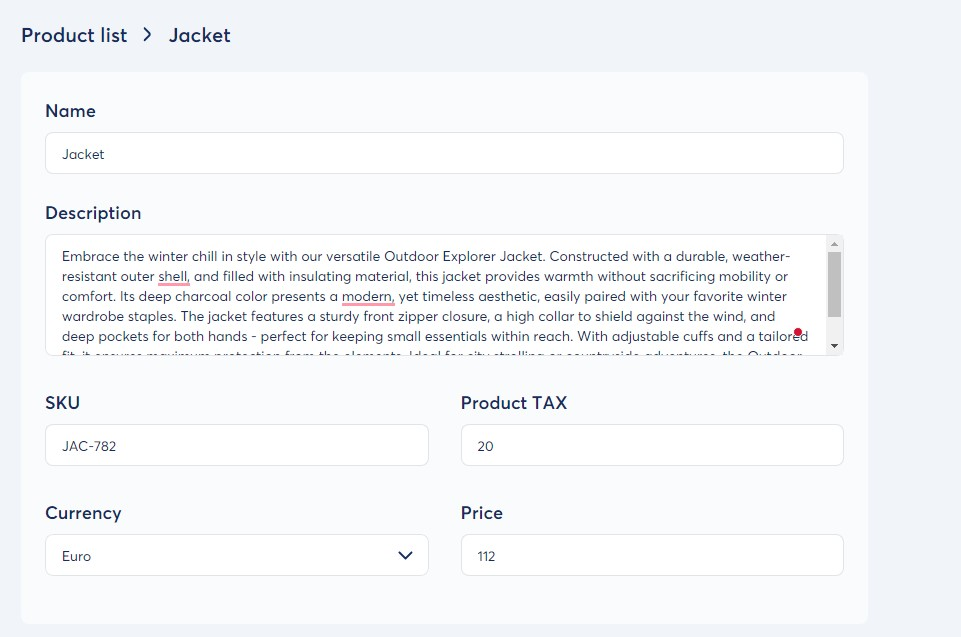 A unique Systeme.io feature is product variant addition. This feature lets you sell a product in multiple sizes or colors without needing to create separate listings for each. This greatly simplifies product management.
Both platforms also offer their own affiliate program. This lets others promote and sell your products for a commission.
Kajabi's Basic plan, however, doesn't include this feature. In contrast, Systeme.io offers it even in its free plan.
Systeme.io vs Kajabi – Integrations
Kajabi has an edge when it comes to integrations. It links up with some handy tools.
For instance, email marketing platforms like MailChimp or ActiveCampaign can mesh smoothly with Kajabi.
Likewise, it connects well with Facebook Pixel and Google Analytics, tools that help you understand how your online business is doing.
Integrations with Zapier and ClickFunnels are also available. So you can automate more tasks with third-party apps and manage or create sales funnels more simpler.
Conversely, Systeme.io doesn't offer direct connections with other platforms.
If you have favorite software you want to use alongside Systeme.io, you'll need a helper tool like Zapier or work with APIs.
It's doable, but it's not efficient or convenient.
Kajabi vs Systeme.io – Customer Support
Kajabi and Systeme.io stand up for their users by offering ample resources and support, such as knowledgebases, video tutorials, and email customer service.
These are crucial when building an online business because they can help you overcome hurdles and keep things running smoothly.
But Kajabi steps up the game with its own University.
This isn't just a place to learn the nuts and bolts of the platform but also a resource for mastering the broader aspects of running a successful online business.
They delve into topics like marketing and even accounting. Plus, Kajabi regularly offers on-demand and live workshops free for its users.
Additionally, you can access 24/7 live chat support if you invest in one of their higher-tier plans.
Pros and Cons of Systeme.io
Pros
Supports both digital and physical product sales
While not top-tier, it offers more complex automation capabilities than Kajabi
Provides competitive pricing to a robust set of features
Comes jam-packed with an extensive array of useful tool
Has a free forever plan
Cons
Offers fewer and simpler design templates compared to its competitors
Does not support direct integrations, which could limit functionality
While promising, the e-commerce capabilities can still be enhanced for an even better user experience
Pros and Cons of Kajabi
Pros
Offers impressive tools and templates for online learning resources
Provides extensive customer support, including 24/7 live chat for higher plans
Has a great number of templates available
Cons
Tends to be more expensive than some of its competitors
Doesn't offer as complex automation as Systeme.io and some other platforms
Cannot directly sell physical products through the platform
Systeme.io vs Kajabi – Which Is The Real Winner?
After an in-depth comparison of Systeme.io and Kajabi, both platforms clearly bring unique strengths to online businesses.
Systeme.io shines with its affordable pricing and the ability to sell physical and digital products, while Kajabi boasts sophisticated course creation tools and a responsive, premium-looking platform.
Regarding automation, Systeme.io edges out Kajabi with its more complex options. Yet, Kajabi offers extensive customer support and educational resources.
Ultimately, the real winner depends on your specific needs.
If you want an all-in-one platform for selling your own online courses and digital products and are okay with the higher cost, Kajabi is for you.
If affordability and robust marketing automation are what you're looking for, Systeme.io is the better choice.
You can subscribe to Kajabi's free trial and Systeme.io's free plan to check both platforms and weigh which is better.