There's no doubt that Kajabi is a popular all-in-one platform for online businesses. Aside from being a light CRM software, it provides the tools you need to create an attractive website, sell digital products, and promote your business. All this without the need for plug-ins or coding.
That's what makes Kajabi a better option for beginners and entrepreneurs than WordPress. However, these features won't matter if your website remains invisible to your target audience.
The question we will address in this post is this:
Kajabi SEO: Is Kajabi good for SEO?
But before we discuss it, here's a quick background about SEO.
SEO stands for Search Engine Optimization. It consists of methods for your website and blog posts to rank higher on the first page of Google and other search engines. When done right, SEO can boost website traffic and increase conversion rate.
We have three types of SEO practices – black hat, gray hat, and white hat.
Black hat SEO is the fastest way to get traffic but can result in your website being banned. Most practices under this violate Google Webmaster Guidelines. You should avoid using this approach at all costs.
Gray hat SEO is not as apparent as a Black hat but still something to steer clear of. Some examples are buying existing links and domains, rephrasing content from other sites word-by-word, and overusing directories for backlinks.
White hat consists of the best and legal SEO methods, but results may take a while to show. We will discuss some white hat methods later that you can apply to your Kajabi.
Now that you know the SEO basics, it's time to answer the real question. In this article, we will also show you the steps to configure your Kajabi SEO.
Is Kajabi Good for SEO?
Yes. The team behind Kajabi ensured that their platform provides fundamental features for SEO. They are built-in and won't require you to download or integrate any other software.
Here are some Kajabi elements for SEO:
SEO and sharing settings. Kajabi allows you to customize the core data of your website, pages, and blog posts, such as URL, title, and meta description.
Site speed. I've noticed in websites and blogs made from Kajabi that they load fast and are responsive. Although this is achievable on WordPress and other CRM software, you will need to download or pay for third-party apps.
Mobile-friendly. Kajabi knows how much traffic comes from mobile devices, so they assured that all websites built on their platform are optimized and viewable for mobile users. Moreover, Kajabi gives you control over mobile layout customization.
How to Set Up Kajabi for SEO
Configuring SEO for Kajabi is pretty easy. It might feel overwhelming at first, but there's only one thing you need to find. That's the SEO and Sharing settings. Once you find it, you can follow the quick tips provided by Kajabi on each field.
To make this tutorial more beginner-friendly, I'll divide it into four categories. I will teach you how to optimize your whole site, pages, blog, and blog posts.
I suggest that you open your Kajabi dashboard because all of the steps will start there.
Site
Go to "Settings," located at the left sidebar.
Click "Site Details" and scroll down to "SEO and Sharing."
Modify your page title, page description, and page image. Add a keyword to the SEO and Sharing setting related to your business or service so that search engines can index it correctly.
Pages
Pages include standalone, landing pages, and pipelines. Although the steps are the same, the pipeline configuration is located at a different tab.
Landing Pages
Click the "Website" tab, then click "Pages."
You'll see tabs on your different pages. Click the ellipsis (…) icon, then select "Edit Details."
Scroll down to the "SEO and Sharing" section and modify.
Apply this step and optimize each landing page.
Pipelines
Go to the "Marketing" tab on your dashboard.
Select the Pipeline you'd like to change.
Click the ellipses (…) then select "Edit Details."
Go to the "SEO and Sharing" section.
Modify your page title, description, and image.
NOTE: If you have Pipelines and Pages you're not currently using or exclusive to your members, you can select "hide from search engines" so it won't be indexed. Don't worry, if you need Kajabi training, Kajabi University can help with that.
Blog
Blog optimization doesn't cover each blog post but the whole blog page of your website.
Click the "Website" Tab, go to "Blog."
Click "Settings" under the "Blog Posts" header.
Optimize your page title, description, and image.
Blog posts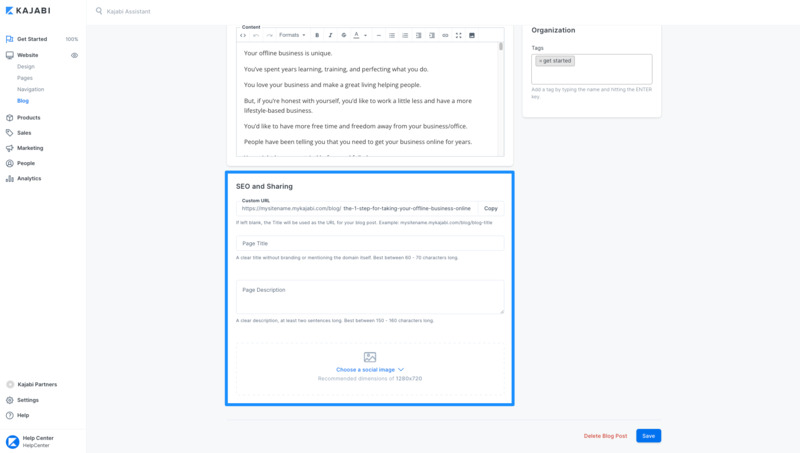 Select "Blog" again under the "Website" Tab.
Click one blog post you'd like to optimize.
Scroll down to the SEO and Sharing settings, modify your URL and make sure to add your target keyword on the URL, SEO page title, and meta description.
Optimize all page titles, meta descriptions, and URLs of all your blog posts.
SEO Practices Outside Kajabi
Although Kajabi has built-in SEO and Sharing settings, it's not enough to rank better on search engines. You should not solely depend on it. There are some other essential SEO practices you must apply outside Kajabi, and here are some of them:
Submit your site to Google Search Console. Google Search Console (GSC) is a free tool you can use to monitor and analyze your site's performance. It will help you identify what articles are most viewed and create content accordingly.
Produce high-quality content. This SEO practice requires a lot of effort, yet it's one of the best and most effective approaches you can do. Ensure that you're writing relevant blog posts for your audience and that you're doing it consistently to get better search engine results.
Perform in-depth keyword research. Finding the right keywords to target with low difficulty and high search volume can significantly affect the ranking of your blog post on search engines. Tools like Ahrefs, SEMrush, and Google Trends can help you with this. You may also check your competitors and see which of their content gets traffic.
Update existing content. If you already posted blog posts on your Kajabi website, make sure that you've updated the data and performed on-page SEO by using relevant words related to your primary keyword.
Strengthen your backlinks. Performing guest posting and producing long-form quality content can help you secure good backlinks and increase your domain authority.
3 Best Kajabi Sites
Let me share with you these three amazing websites to show you how helpful Kajabi is:
1. Recording Revolution
Graham Cochrane, business coach and owner of this website, is a certified Kajabi Partner. He has been using the platform since 2013 and has made a six-figure income from this business.
Recording revolution provides articles, products, and free guides to help aspiring musicians build and create unique songs using budget equipment and at the comfort of their homes.
Aside from that, Graham also teaches recording and mixing techniques and how musicians can earn money from their passion.
Graham uses videos for his articles, and regardless of the length, they load fast and are pretty responsive.
2. Fully Raw
Fully Raw is an aesthetic Kajabi site full of content about the vegan lifestyle. This website proves how limitless and customizable Kajabi is. Like Kristina's website, you are allowed to design yours and add features that can help you with conversion, like CTA buttons, opt-in forms, pages, blogs, and more.
Like Recording Revolution, Fully Raw consistently produces blog posts, but they provide text articles with links and recommendations instead of videos.
Fully Raw has a lot of pages and content, but it doesn't slow down the site, which is a good thing for SEO.
3. DCDA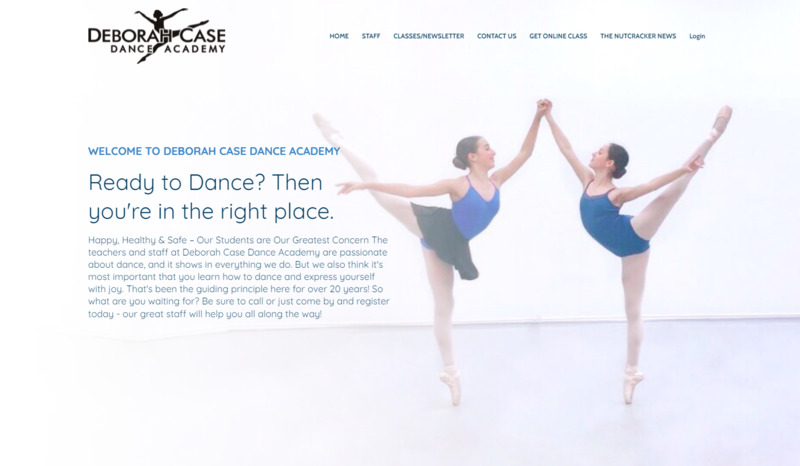 DCDA is an acronym for Deborah Case Dance Academy. Deborah and her team offer in-person and online ballet lessons for kids and adults. Unlike the two above, DCDA doesn't utilize the Kajabi blog but has a landing page and sales page for her program and ebook.
Deborah's website is organized and very easy to navigate. They also include welcome videos on their homepage to get familiar with what they do and offer.
Conclusion
Although it is not as customizable and open as WordPress, Kajabi SEO still works well. The most significant advantage of using this platform is the simplicity of applying the fundamental steps to optimize your website for search engines.
What's more, you won't need to spend extra fees as it is already SEO features are already built-in. All you need to do is modify them.
So start your free Kajabi trial today and see how easy it is to set up a Kajabi website for SEO.
Frequently Asked Questions About the Kajabi Platform: