Kajabi is constantly stepping up its game. This is what keeps the platform ahead of its competitors. Now, aside from being mobile-friendly software, they doubled their efforts and created an app for a mobile device.
This will make your library available to your students wherever they are and with just a few clicks. No need to go to the mobile browser as they can simply open the app.
The best part? As a course creator, you don't need to worry about additional setup, and it won't cost you extra fees!
Let's discuss more of this application below.
What is Kajabi Mobile App?
In 2019, Kajabi made an intelligent decision and created their Kajabi App. These benefits you as an admin and your students for the following reasons:
For Kajabi admin: You don't need to spend money developing your own application to make your library available to mobile users. It's cost-effective and stress-free. Aside from the fact that it costs nothing, you don't need to worry about the back-end since Kajabi already designed the app to fit your students' needs.
For students: They can access everything in one place without opening a mobile browser. This free app will show them your products and the resources they availed from other Kajabi-made websites.
Kajabi App is available on both Google Play Store and Apple App Store. Making it downloadable for the majority of mobile users.
How Does the Kajabi Mobile App Work?
As a user admin, you must first make your library searchable on the Kajabi App. You can do so by opening the dashboard on your desktop and clicking "Mobile Settings."
Kajabi lets you create a pre-written message to inform your customers that your business/school is available on the app.
It's important to note that you can't do modifications using the Kajabi App as an admin. All changes must be done on your computer, and they will be reflected in real-time to your library for the students to see.
Here are some fantastic features:
Magic Link. Kajabi Mobile app users won't need to manually encode their passwords on each library. Once they verify their email address, Kajabi will show all digital products they've purchased or enrolled in.
Organized Library of Courses and Products. Kajabi made sure that cross-promotion won't happen and all libraries are organized so that students won't be distracted by other products of different businesses.
Push notifications. Your students will be notified of announcements, updates, promotions, and community mentions.
Minimalistic and well-structured community outreach. With the Kajabi Mobile App, your students can easily access their community without distractions.
Kajabi Mobile App Interface: How Does It Look?
To Admins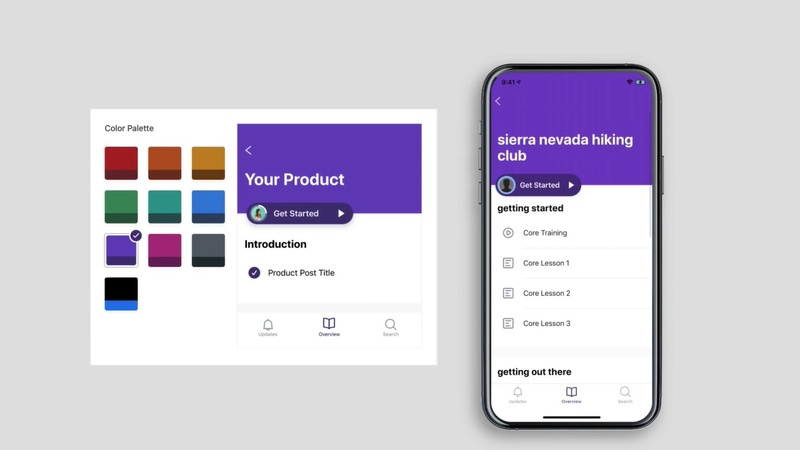 As of writing, Kajabi Mobile has a minimal function for admins. If you want to make some changes to your content or library, you need to do it on your laptop or desktop.
The Kajabi mobile app doesn't allow you to make changes to the layouts either. Personally, I think it's good because you don't need to worry about coding, and the fixed design looks neat. Having it also ensures that the transition to different courses or libraries will remain smooth.
Although not so much, Kajabi still gives you the freedom to improve the interface for your students such as:
Choosing from the pre-determined color palette and themes for your library.
Editing your school's logo.
Allowing file and video download.
Sending announcements for reminders, news, and updates.
To Students
Image Source: Full Plate Living
Once Kajabi students download the app and verify their email addresses, they'll be able to see all of the materials they purchased.
The best thing about the app is the libraries are well-organized. They won't see any cross-promotion, and only the materials they purchased from that specific school will be visible.
It's also effortless to transfer from one library to another. Your students can click the three-lined icon on the left side, and the list of all the libraries they're enrolled in will show.
Kajabi really did a great job in creating a seamless experience for the students. Aside from the well-structured libraries, the course dashboard is also neat and easy to navigate.
There are so many other features that students will love, and here are some of them:
If enabled, they can access the comment section.
They can join discussions inside the community.
Students can listen to the course in podcast style. Even if they exit the app; the video will continue to play. So they can do other stuff while learning.
The app lets them favorite any material for ease of access.
Thanks to the one-touch access, they won't be required to use passwords.
They can select the video quality and speed and enable captions via Kajabi's video hosting.
Customer Rating: How Good is the Kajabi Mobile App?
This free app scored a 4.6 out of 5 in Google Play Store. With over 500,000 downloads and more than 7,000 reviews, the majority love the app.
Moreover, the app got a score of 4.7 out of 5 in the Apple app store. And although some areas require improvement, it still got plenty of 5-star votes.
Kajabi App FAQ
Can I white-label my school using the Kajabi App?
Unfortunately, you can't do this with the app. The primary purpose why the app is made is to make it easier for your students to access all of the materials they've purchased under Kajabi-made websites. You are still allowed to build your own application, but this will be outside Kajabi's responsibility.
If I update or add new content, will it reflect on the Kajabi Mobile App?
Yes! But you can't make the changes on the mobile browser. You must do it on your desktop and go to your dashboard. As of writing, the Kajabi App is only for your students to access the courses.
How Can I Download the App?
The app is simple to download. Choose the app store that works in your operating system and type Kajabi. You may use these links if you'd like:
How Can I Enable Push Notifications for the Mobile App?
Your students can receive push notifications whenever you make an announcement, or someone mentions them.
To enable push notifications for the announcement:
Go to the Kajabi dashboard using the web browser.
Click Products
Select More Action
Click Announcement, then create a new announcement.
Once you post announcements, they will automatically be received by your students as push notifications.
For the latter, someone needs to tag them using @(name), and it will send as a push notification.
Can My Students Access the Community on the Kajabi App?
Absolutely! Your students can communicate in your Kajabi community, join a discussion, and comment on the thread with one touch. This is one of the best advantages that your students can get. It will be accessible from the library, and they can jump in and post there wherever they are.
Can My Students Download Files or Videos?
Yes! However, you must enable it first on the back-end. Here's how you can do it:
Go to the Kajabi Dashboard.
Click Products.
Select the product then the post where you want to add the downloadable content.
Under the Download area, select Files.
Now you can upload the downloadable video, image, or PDF.
Once changes have been made, your students will see that on their part.
That's All For Now
The Kajabi app is simply excellent and has a lot of potentials. Thankfully, the developers are continuously updating and improving it for a better user experience.
Now that most people are always on the go and spend most of their time using mobile phones, business owners and course creators like you should adapt and learn how to take advantage of this.
Utilize this free app to make your course more accessible, and enhance your community's engagement with one touch! Try Kajabi free for 14 days.
Learn More About Kajabi: