When it comes to websites, online courses, and membership sites, Kajabi is one of the most popular platforms.
It's packed with features that make creating and managing your content a breeze. And one of the things that makes Kajabi so great is its ready-to-use themes and templates.
But what if you want to stand out more or be unique?
If that's the case, it is worth considering investing in custom Kajabi themes.
Keep reading to learn about Kajabi templates and how to find gorgeous website themes for your Kajabi account.
What Are Kajabi Themes and Why Use Them?
Themes are skin templates that give your site a distinct look and feel.
They set the overall design, layout, and style of your pages, so you can ensure everything is uniform, polished and professional-looking.
Kajabi pre-made themes are valuable because they save your time and let you quickly build attractive websites and pages without coding.
Related:
When to Use Kajabi Custom Themes
However, even if Kajabi templates are great and customizable to some extent, they are not suitable for everyone's taste.
If you belong to that group of people who don't like the default themes and want your site to be different, a custom theme is the way to go.
Getting a Custom Kajabi Website Theme
Since Kajabi is a well-known platform, finding beautiful templates to buy won't be challenging. But I'll introduce the five best digital shops you should check.
Five Shops That Sells Stunning Kajabi Themes and Templates
1. Meg Burrage
If you want to get the most cohesive templates out there, then Meg's should be on the top of your list.
The packages provide everything you need and more to launch a successful Kajabi website and grow your online business.
Each website theme includes ten web pages, Canva designs, and bonus resources, including a coaching call and community access.
Meg is a business strategist and also a Kajabi coach. She knows the platform from the inside out and understands what you need as a user.
Meaning to say, you're not just going to build an attractive Kajabi website, but you'll also have great support in building a business and making more money on your expertise.
Pricing
Like Launch In Style, Meg gives you the option to buy the full package and enjoy the bonuses or buy only the pipeline you need. Here are the prices:
Full package (includes all the pipelines, website pages, and secondary ones) – $697
Webinar / Challenge / Sales Page Pipeline – $149
Lead Magnet Pipeline – $79
Recommended Theme
Transformation – the theme is perfect for creatives. It uses vibrant colors, but they complement each other, so they don't feel overwhelming.
2. The Template Studio
The Template Studio offers a good list of themes for your site and sales pages.
Cassia and Jennifer, two influential entrepreneurs, are the developers behind the Template Studio.
The shop currently offers nine website themes and four sales page templates. Whether you're offering law services, digital marketing, health and wellness, travel, fashion, or even real estate, you can find a suitable theme for your niche.
The website templates include designs for all necessary pages like home page, log-in page, long-form sales page, momentum product page, and more.
What makes this shop stand out is its excellent service. They will schedule a 30-minute Zoom call to show you everything you need to know. Aside from that, they provide the following bonus resources:
Kajabi 3 Days to Done Course. This course will help you build and publish your business on Kajabi in no time.
Copywriting prompts. These are very helpful if you want to create a copy that will help turn visitors into customers.
Pricing
The website templates cost $397, and the sales themes are $49. If you're busy and can't set up your website, you can pay an additional $700, and the developers will do that for you.
Recommended Theme
Fairfax – classy and chic. Ideal for fashion, graphic design, or artistic services like photography.
Check The Template Studio Themes
3. Launch In Style
Launch In Style offers high converting, and code-free sales funnel templates compatible with Kajabi and WordPress.
Their templates are mobile-friendly, 100% customizable, and fit any brand, niche, or business. You can add your own images or use the editable photos on Canva.
The developers will provide step-by-step videos and written instructions to get your entire page up and running within a few days. You don't have to stress about setting up.
Launch In Style lets you buy the freebie funnel kit, webinar funnel kit, and sales page kit separately. Buying the templates individually is ideal if you only need specific content templates. But you can get a massive discount if you purchase the bundle.
Pricing
The price of each kit is $99. But you can get the collection for $249 and save $48.
Recommended Theme
Harper – all templates are beautiful, but I like this one because the color is minimal and not that feminine. It is suitable for both male and female users.
View all Launch In Style template kits
4. Penny in Your Pocket
Penny, the person behind Penny in Your Pocket, is a digital expert with over 30 years of experience. She knows Kajabi very well and provides tutorials, coaching, articles, and workshops.
She values efficiency, and that resonates with the products she's offering. Her templates work for your Kajabi site's front and back end.
And although full-packed, the templates are easy to use and set up.
Out of the five shops on the list, Penny is the only one that offers product templates. These themes allow you to change the classic Momentum theme and customize your product (i.e., membership site, mini-course, online course, etc.) dashboard's sidebar and accordion-style menu.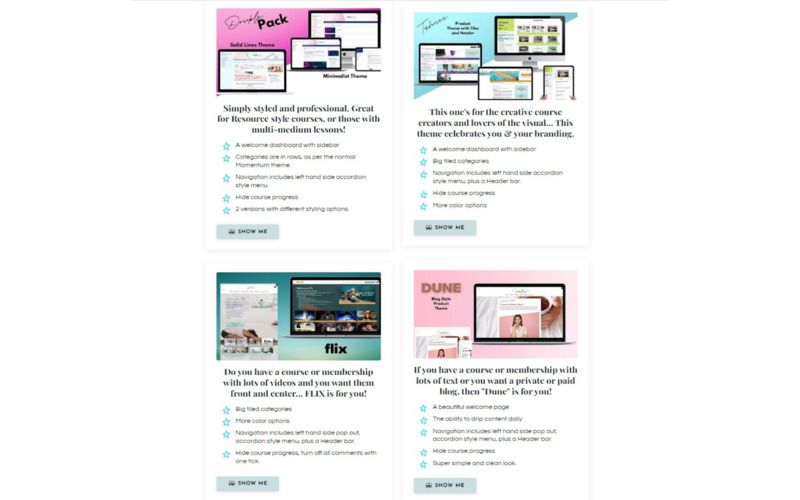 The accordion-style menu refers to the vertical drop-down menu on your course dashboard. Aside from the accordion-style menu, you can add navigation tools like logical left-hand and use extra features like big tiled categories.
All of the momentum themes provide unique features like more color choices, big tiled categories, and the option to hide course progress. Although they might seem like tiny changes, having a product theme in place will give you more freedom in designing your product pages.
Aside from getting a custom Momentum theme, page, and website theme, Penny also provides a tutorial on creating custom Premier themes. It's helpful if you're running a membership site and want it to stand out.
With this, you can learn how to add Google, adobe fonts, or other custom purchased fonts and use horizontal menus and a secondary navigation menu. You'll also get access to premium image assets, membership tutorials, and two custom designs.
Pricing
Penny's page templates range from $49 to $75. Her website templates cost $380 to $452, and the product templates are from $79 to $249.
Recommended Template
Flix – the Netflix-inspired theme is perfect for anyone who wants to recreate the look and feel of the popular streaming site on Kajabi. It's vibrant yet straightforward and includes all the pages you'll need, including a page for a private or paid blog.
Get the suitable website, page, or product theme for your site on Penny In Your Pocket.
5. Groth Co.
Groth Co. is an online shop run by a product creator couple, Cody and Jacqueline.
They provide the cheapest template options than the rest on this list. You can also hire them for custom design.
I like Groth Co. because they specify the type of niche the template is ideal for. It helps users easily decide which template will be the best for their needs. There's also an available live demo of the website templates, including the standalone pages.
The templates of Groth Co. contain video tutorials for easy setup and all the essential pages you'll need to launch your business and earn passive income. That includes:
opt-in page to grow your email list;
sales page to help you convert visitors;
and five web pages to introduce your business and show visitors what you're offering.
Pricing
All Groth Co. Kajabi templates cost $249.
Editor's Note: They currently provide 50% off on their Kajabi templates. Use their promo code HALFOFF upon checkout.
Recommended Theme
Female Consultant – the theme looks clean, and the white-gray-yellow color combination is just perfect. Regardless of the name, it will fit even male consultants or agencies.
Choose the suitable Groth Co template for your niche.
How to Upload New Custom Theme
Uploading your new theme is very easy.
Here's how you can use and set up your new theme:
1. Go to the Website tab on your Kajabi Dashboard and select Design. Scroll down and click "Upload Theme."
2. Click or drag and drop your file.
3. Once it appears under your Saved themes, click "Set to Live Theme."
Hiring a Developer to Create a Custom Theme
Another option to get the best theme for your Kajabi website is to hire a developer. Here are some of the best places to look at:
Fiverr
Fiverr is a freelance marketplace where you can hire people for digital services. Most offers start from as low as $5, so you can choose the right person that will suit your budget.
Upwork
It's another excellent marketplace like Fiverr.
What's good about Upwork is that you can see developers who have high job success and are top-rated. This way, you'll feel more confident in choosing the right person to design your Kajabi site.
Kajabi Communities
Kajabi Facebook communities are the best place to find newbies and experts who know Kajabi well. Just be careful of scammers.
Take Your Website to the Next Level
Creating the best website is crucial as a course creator and business owner. It might require spending more, but it will pay off in the long run.
A well-designed and unique website will help you attract more audiences, become known as a brand, and increase sales. It can also set you apart from the competition as the look of your website is what your audience will remember.
Kajabi Frequently Asked Questions: